About Us
About Us
Learn how Audubon Pennsylvania offers an approach to conservation that achieves results.
Our Mission
To conserve and restore natural ecosystems, focusing on birds, other wildlife, and their habitats for the benefit of humanity and the earth's biological diversity in Pennsylvania.
Our Approach—Science, Education, and Policy
Through our efforts in these areas at the state and chapter levels, Audubon Pennsylvania offers a comprehensive approach to conservation that achieves measurable results.
Science
Audubon empowers "citizen scientists" and other volunteers with the leadership, knowledge and tools to study, preserve, and restore the natural environment we all share.
Connecting People with Nature
For more than 100 years, Audubon has been connecting people with nature through the annual Christmas Bird Count, The Great Backyard Bird Count and Important Bird Area surveys, all of which provide scientists with critical bird population trend data and diversity records. Since 2001, 450 volunteers in Pennsylvania have received instruction in bird monitoring.
Identifying, Monitoring, and Conserving Bird Habitat
Pennsylvania is making an important contribution to the conservation of bird and wildlife habitat in the Western hemisphere. "Penn's Woods" are critical to many interior forest birds, providing nesting habitat to 17% if the world's Scarlet Tanagers, 10% of Worm-eating Warblers, and 9% of Wood Thrushes.
Important Bird Areas (IBAs)
Audubon, as the U.S. Partner for BirdLife International, has been working to identify a network of IBAs throughout the US. By focusing attention on the most essential and vulnerable areas, the IBA program promotes proactive habitat conservation which ultimately benefits birds and other wildlife.
IBAs range in size from 1 acre to over 500 square miles, and provide crucial nesting, feeding, roosting, or migratory habitat for birds. Pennsylvania developed the first Audubon IBA program in the United States in 1996. Since then, scientists have identified 81 IBAs across the Commonwealth encompassing over 2 million acres of public and private lands.
Stewardship Adoption Program
To help facilitate community involvement in the protection and conservation of IBAs, Audubon Pennsylvania developed the Stewardship Adoption Program. This enables an organization or institution to adopt a specific IBA and partner with Audubon Pennsylvania and other conservation groups to monitor and protect the site.Today. 30 different organizations have officially adopted over 50 of Pennsylvania's IBAs.
Blue Mountain-Kittatinny Ridge
Blue Mountain – or Kittatinny Ridge – is Pennsylvania's largest IBA at 185 miles long. It covers 500 square miles and crosses 11 counties from Northern New Jersey through central Pennsylvania almost to the Maryland state line. More than 150 species of birds use the Ridge for their annual migration to Central and South America. Audubon is leading a coalition of groups and agencies to protect this globally-important habitat and recreation corridor.
Education
Audubon PA is "connecting people with nature" by developing a network of Audubon Centers and using proven and innovative education programs to promote a lifelong conservation ethic.
Policy
Audubon Pennsylvania's mission of conserving and restoring natural ecosystems, focusing on birds, wildlife, and their habitats helps to shapes the Commonwealth's conservation agenda. Working with state, local and federal officials, along with our network of chapters, volunteers and many partners, Audubon PA is protecting and restoring Pennsylvania's natural heritage.
Forest Health
With more than 60 percent of Pennsylvania in woodlands, the health of the state's forests are crucial to overall conservation. Unfortunately, our forests face many threats, from fragmentation by roads and development that destroy the unbroken blocks that many forest species need to survive, to an overpopulation of white-tailed deer whose browsing has destroyed the understory across much of Pennsylvania, endangering everything from wildflowers to ground-nesting songbirds. Audubon Pennsylvania's primary goal is to encourage local, state and federal agencies to implement strategies that improve the overall health of Pennsylvania's woodlands.
How you can help, right now
Donate to Audubon
Help secure the future for birds at risk from climate change, habitat loss and other threats. Your support will power our science, education, advocacy and on-the-ground conservation efforts.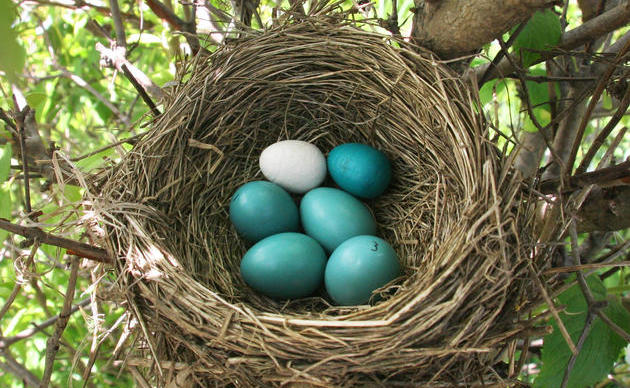 Become a Monthly Donor
Donating monthly is flexible, easy and convenient and makes you a champion birds can count on, no matter the season.