About Us
Audubon Pennsylvania Board Members
Our current Board
The current board members are:
Stewart Cades, Chair
Alan Barstow, Vice Chair
Robert Lukens, Secretary
Leigh Altadonna
Rebecca Bagin
Rob Bierregaard, Ph.D.
Sarah S. Chang
James Gallagher, Ph.D.
John Giordano
Nikki Jones
Allen J. Model
Charlotte Radcliffe
Kate Shields
Michael Stolper
Philip Witmer
________
Audubon Pennsylvania List of Board Members with Affiliations:
No compensation is provided to Board members.
________
Stewart Cades
CHAIR
Philadelphia, PA (Philadelphia County) Director since 2012; Vice Chair 2015; Acting Chair 2017:
Mr. Cades has more than 25 years of experience in international business and public education. He is currently the President and CEO of Overseas Strategic Consulting, and manages U.S.-based administration, contract negotiation, and representation to clients such as USAID and the World Bank. He was nominated by Governor Rendell as a member of the Pennsylvania Council on the Arts. Stewart was the chairman of Porcupine Press Inc., and vice president of Fabric Workshop and Museum. He also served as director of Conservation Center for Art and Historic Artifacts; Print Club; Pennsylvania Academy of Fine Arts; and the Foundation for Architecture. Mr. Cades received a Bachelor of Science in Economics from the Wharton School at University of Pennsylvania, and a Masters of Education from Temple University. He also received an LLB from the University of Pennsylvania School of Law.
________
Alan Barstow, PH.D
Philadelphia, PA (Philadelphia County) Director since 2010:
Alan is an author, consultant and educator specializing in organizational design, the process of change, and sustainable development. He is the Director and Senior Scholar of the Organizational Dynamics Program at the University of Pennsylvania. Alan engages executives and professionals in rethinking strategic goals and action, and in learning effective ways to co-create change. He works with organizations engaged in redesign and cultural transformation processes. Alan is a Fulbright Scholar and earned his Ph. D. in Anthropology from Columbia University.
________
Robert Lukens
SECRETARY
Wyndmoor, PA (Montgomery County) Director since 2010; Secretary since 2015:
Mr. Lukens is a past president and board member of the Friends of the Wissahickon, an environmental and park advocacy group focused on 1,800 acres of Philadelphia's Fairmount Park, and has served and continues to serve on a number of its committees, including the conservation committee. He also serves on the boards and various committees of a number of other charitable organizations, and is a past president of the Overbrook School for the Blind. He is a retired corporate lawyer, most recently with CIGNA Corporation where he was senior counsel and assistant corporate secretary for two decades. He is a graduate of Princeton University and the Harvard Law School.
________
Leigh J. Altadonna, EDD
Wyncote, PA (Montgomery County) Director since 2011:
Dr. Altadonna recently retired from being the Assistant Superintendent of Schools for the Abington School District. He had a leadership role in the development of the school district's Strategic Plan, Professional Education Plan and Induction Plan. These plans have included an important focus on issues related to multicultural education, tolerance, equity and diversity. Dr. Altadonna recently completed an eight year term on the Board of Directors of the National Audubon Society, is currently Chair of the Mill Grove Advisory Board, Vice Chair of the Montgomery County Parks, Trails and Historic Sites Advisory Board and is on the Wyncote Audubon Society board.
________
Rebecca Bagin
Philadelphia Director since 2017:
Rebecca was an executive at Cambell Soup Company for nearly 15 years. She was the Chief Human Resources officer for Campbells North America--Global Supply Chain for over 3 years before joining Tory Burch in New York, where she served for 2 years before returning to Philadelphia. She was born and raised in Pittsburgh. Rebecca brings the highest level of corporate experience and will be instrumental to Audubon PA's implementation of its strategic plan.
________
Richard (Bob) Bierregaard, PH.D.
Wynnewood, PA (Montgomery and Delaware Counties) Director since 2016:
Rob's passion in the natural world has always been birds of prey. His Ph.D. research addressed the importance of competition in the ecological structure of raptor communities. From 1995 to 2011, Rob taught Ornithology and Ecology in the Biology Department of UNC-Charlotte. Previously (1978-1988), Rob was the original field director of the Biological Dynamics of Forest Fragments Project in Manaus, Brazil. Rob and his graduate students carried out a 10-year study of the flourishing Barred Owl populations around Charlotte, NC. He now focuses his research on the ecology and migration of Ospreys in eastern North America. Since he began this work in 2000, he has deployed satellite or cell-tower transmitters on 52 juvenile and 43 adult Ospreys and spends most of his time analyzing the data from the movements of his "flock" of Ospreys between North and South America. He is now a research associate at the Academy of Natural Sciences of Drexel University.
________
Sarah S. Chang
Philadelphia (Philadelphia County), Director since 2018:
Ms. Chang has had a distinguished career with Johnson & Johnson and where her present responsibility is as the Worldwide Director of Sustainability. She has deep experience and accomplishments in the areas of value creation, customer focus, solution delivery, people development and complexity management. Ms. Chang holds degrees from the University of Pennsylvania, including a Masters in Organizational Dynamics and Bachelor's degrees in International Relations and Economics.
________
James P. Gallagher, PH.D.
Philadelphia, PA (Philadelphia County) Director since 2015:
Dr. Jim Gallagher is a widely known, accomplished leader with a strong regional and national reputation for educational administration and leadership. He served as Interim President of LaSalle University May 2014 to June 2015. Dr. Gallagher served as President of Philadelphia University for 23 years. During his tenure, he successfully guided the school through a major transformation from Philadelphia College of Textiles and Science to Philadelphia University and is a former Chair of the Pennsylvania Board of Education and a former member of the Philadelphia School Reform Commission. Dr. Gallagher holds a Ph.D. in higher education from The Catholic University of America, a Master of Education from Duquesne University, and a Bachelor of Science from St. Francis University of Pennsylvania.
________
John Giordano
Director since 2017:
John is a Partner in Archer's Government Affairs practice, as well as a member of Archer Public Affairs. John served as Deputy Secretary (Chief Operating Officer) of the Pennsylvania Department of Conservation and Natural Resources (DCNR) and Assistant Commissioner for the division of Air Quality, Energy and Sustainability (AQES) at the New Jersey Department of Environmental Protection (DEP). He was Governor of New Jersey's representative on the Delaware River Basin Commission. John brings a tremendous background in conservation from key leadership roles in the private sector and has been instrumental in conservation policymaking in the public sector at both the state and federal levels.
_______
Nikki Jones
Hummelstown, PA (Dauphin County)
Director since 2019
Ms. Jones has served as the Director, State Government Relations for PPL Electric Utilities since 2011. In that role, she monitors the activity of and lobbies the PA General Assembly, Governor's office and state agencies on issues of importance to the corporations, retail electric choice, and alternative ratemaking. She leads and manages teams within PPL as well as coordinates with trade associations to develop and execute legislative and regulatory strategies, both for the corporation and industry-wide. At PPL she assists in the drafting of legislation, amendments, and testimony on various utility policy issues before the PA General Assembly. Prior to this work, Ms. Jones was legal counsel to the PA House of Representatives and served as lead for energy and utility issues. Ms. Jones holds a Juris Doctorate from Widener University School of Law and a Bachelor of Arts Degree in Political Science from Penn State University.
_______
Allen J. Model
Philadelphia, PA (Philadelphia County) Director since 2015:
Mr. Allen J. Model is a Co-founder of Overseas Strategic Consulting, Ltd and has been its Treasurer and Managing Director since 1992. Mr. Model has served as Treasurer of National Audubon Society, Inc. He has been a private investor for Model Entities, which has managed personal and family portfolios since 1988. Mr. Model has been Director of Anchor Health Properties since 1990, Director of Sinewave Energy Technologies since 1994, and a Director of The Howard Hughes Corporation since November 2010. He is currently Chairman of the Leo Model Foundation and serves on the boards of a number of organizations and corporations including Wildlife Trust, Middlesex School, Jerusalem Foundation, Women's Way and Bach Festival of Philadelphia. Previously he served as a Director of Blue Ridge Real Estate Co. (1975 – 2002), Big Boulder Corp. (1975- 2002), and MetroWest Bank (1990 – 2001).
______
Charlotte Radcliffe
New York, NY (New York)
Director since 2019
Charlotte Radcliffe is Senior Account Manager, Completely Bare line, with Quality King Distributors, distributor of over 5,000 national brands. Since 2012, Charlotte has assumed increasingly responsible positions in the areas of marketing and brand development at Quality King, Parlux Ltd., and PBW & Co. She comes from a long family history of National Audubon Society leadership and has generations of family roots in Philadelphia and central Pennsylvania. Charlotte holds a B.S. in Economics and Environmental Geoscience from Boston College.
______
Kate Shields
Flourtown, PA (Montgomery County)
Director since 2019
Kate Shields is Chief Executive Officer of Vault Communications, one of the fastest-growing marketing communications firms in the Greater Philadelphia region as recognized by Inc. magazine, the Philadelphia Business Journal and the Philadelphia 100. For more than two decades, executives from diverse industry sectors have entrusted kate to counsel them in strategic communication planning, crisis communications, corporate responsibility, media relations, and social media. Kate brings valuable client-side perspectives to her work, having held roles in-house at Campbell Soup Co and ARAMARK. Kate is an Adjunct Professor of Communications at La Salle University, where she has taught graduate-level courses in Philadelphia and Prague, Czech Republic. She currently serves on the Board of Directors for the Please Touch Museum, the Chamber of Commerce for Greater Philadelphia, and For Pete's Sake Cancer Respite Foundation. in 2017, she was named of the "Top Women in PR" by PR News. Kate holds a B.A. in English/Communication from the University of Scranton and an M.S. in Public Relations from the S.I. Newhouse School of Public Communications at Syracuse University.
______
Michael Stolper
Berwyn, PA (Chester County) Director since 2009:
Mr. Stolper is a general partner of Veritable, LP, a privately-held registered investment advisor. He was the comanaging director of Hawthorn, a PNC Company, and was President of Stolper & Co. He has over 30 years' experience as an investment advisor and financial consultant. He served on the National Audubon Society board.
________
Philip N. Witmer, M.Ed.
Wayne, PA (Delaware County) Director since 2015:
After a career in counseling, non-profit management and non-profit technology, Mr. Witmer turned to his passion for birds and bird conservation. He has consulted with organizations such as Audubon PA, Bucks County Audubon Society, ASTD and Pennsylvania Environmental Council. Mr. Witmer is an avid birder with more than 30 years birding experience. He is a past board member of Bucks County Audubon Society and president of the Delaware Valley Ornithological Club, the second oldest birding club in the country. Mr. Witmer is active in both the Radnor and Tredyffrin Bird Towns initiatives and has devoted much time to the conservation of birds, the forces driving their decline and what we need to do to save them. He leads bird walks with a conservation focus and lectures on a variety of conservation topics.
________
How you can help, right now
Donate to Audubon
Help secure the future for birds at risk from climate change, habitat loss and other threats. Your support will power our science, education, advocacy and on-the-ground conservation efforts.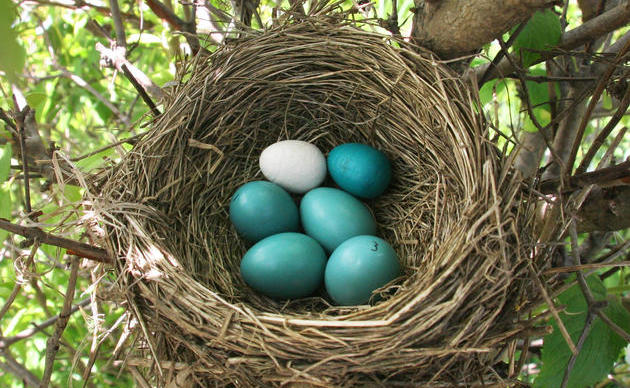 Become a Monthly Donor
Donating monthly is flexible, easy and convenient and makes you a champion birds can count on, no matter the season.