Conversation
Great Backyard Bird Count 2018
Feb. 16-19, 2018
Please download the PDF at the bottom of the page to help with your counting of birds! Good luck!!!!
About the GBBC
Launched in 1998 by the Cornell Lab of Ornithology and National Audubon Society, the Great Backyard Bird Count was the first online citizen-science project to collect data on wild birds and to display results in near real-time.
Now, more than 160,000 people of all ages and walks of life worldwide join the four-day count each February to create an annual snapshot of the distribution and abundance of birds.
We invite you to participate! For at least 15 minutes on one or more days of the count, February 16-19, 2018, simply tally the numbers and kinds of birds you see. You can count from any location, anywhere in the world, for as long as you wish!
• • • • • •
GETTING STARTED
Go to

http://ebird.org/content/pa/

and create an account (it's free!)
Go to www.birdcount.org and learn about the count, how to submit, etc.
Make sure you have feeders up and seed on hand. (see resources below
Learn these 15 common feeder birds (see below)
Consider attending a workshop or walk (see listing below)
Write down what you see and submit a checklist for each of the four counting days
Celebrate your contribution to this global citizen science program and learn more about backyard habitat from Audubon Pennsylvania, your local Audubon chapter and from www.audubon.org/plantsforbirds
Birds to learn:
Northern Cardinal
Mourning Dove
Dark-eyed Junco
Downy Woodpecker
American Goldfinch
Blue Jay
Carolina/Black-capped Chickadee
House Finch

Tufted Titmouse
White-breasted Nuthatch
Red-bellied Woodpecker
White-throated Sparrow
Song Sparrow
House Sparrow (non-native)
European Starling (non-native)
AUDUBON GBBC EVENTS IN PA
(All are FREE unless otherwise noted. See Bird Town groups at Meetup.com for more info)
ADAMS COUNTY - Saturday, Feb. 17 (walk)- 8:00 am
Gettysburg National Military Park, Spangler's Spring• southmountainaudubon.org

BUCKS COUNTY
Friday, Feb. 2 (talk) • 6:30 pm
Lenape Valley Church, 321 W. Butler Ave., New Britain PA 18901
Bird Towns New Britain Borough, Doylestown (T&B), Chalfont
Saturday, Feb. 17 (talk and walk) • 2pm – 4pm (brief presentation followed by bird walk)
Honey Hollow Visitors Center (Bucks Co. Audubon), 2877 Creamery Road, New Hope
www.bcas.org
Saturday, Feb. 17 (walk) • 10am – 12pm
Warminster Community Park, 1100 Veterans Way
Warminster Environmental Advisory Council • Warminster (future) Bird Town
DAUPHIN COUNTY
Saturday, Feb. 17 (indoor count) • 10am – 4pm (ongoing)
Olewine Nature Center, 100 Wildwood Way, Harrisburg • appalachianaudubon.org
DELAWARE/CHESTER CO.
Saturday, Feb. 3 (talk) • 10am – 12pm
Jenkins Arboretum, 631 Berwyn Baptist Rd., Devon • Bird Towns Radnor, Tredyffrin, Schuylkill Twp
Monday, Feb. 12 (talk) • 7:00 – 8:30pm
Marple Newtown High School, 120 Media Line Rd., Newtown Square • Bird Town Newtown Square
LEHIGH COUNTY
Sunday, Feb. 18 (indoor count) • 10am – 2pm (drop in any time)
First GBBC Indoor Counting Party!
Wildlands Pool Sanctuary, 3701 Orchard Pl., Emmaus • lvaudubon.org
LEBANON COUNTY
Weds, Jan. 24th (talk) • 7:00 pm – 8:30 pm
LV UCC, Route 422, Annville PA • qasaudubon.org
Sunday, Feb. 18th (walk) • 2pm - ?
Union Canal Tunnel Park, Lebanon • qasaudubon.org
MONTGOMERY COUNTY
Saturday, Jan 27 (talk) • 10:00 am – 12:00
Upper Dublin Township Building, 801 Loch Alsh Ave., Fort Washington PA
Bird Towns Upper Dublin, Lower Gwynedd
Friday, Feb. 16 (walk, sit, count) • 8:00am – 11:00 am
Briar Bush Nture Center, 1212 Edge Hill Road, Abington • wyncoteaudubon.org
Friday, Feb. 16 (sit, count) • 1pm – 3pm
Fort Washington State Park, Militia Hill Hawkwatch Platform • Wyncote Audubon
Saturday, Feb. 17 (walk, count) • 8am – 10am
Robbins Park, 1419 E. Butler Pike, Ambler •• Meet in parking lot • wyncoteaudubon.org
Saturday, Feb. 17 (walk, sit, count) • 1pm – 3pm
Pennypack Ecological Restoration Trust, 2955 Edge Hill Road, Huntingdon Valley • Wyncote Audubon
NORTHAMPTON
Sunday, Feb. 18th (walk) • 10am – 11:30 am
Grand Central Environmental Ed. Center, 891 Grand Central Road, Pen Argyl 18072 • lvaudubon.org • WM.com
PHILADELPHIA
Monday, Feb. 19 (walk, count) • 8:00 am – 11:00 am
Tacony Creek Park, 5109 Bingham St. Phila 19102 • ttfwatershed.org • wyncoteaudubon.org

PITTSBURGH AREA aswp.org
Saturday, Feb. 3 (talks) • All begin at 10:00 am
Beechwood Farms Nature Reserve, 614 Dorseyville Rd., Pittsburgh 15238
Succop Nature Park • 185 Airport Rd., Butler PA 16002
Todd Nature Reserve Store • Yellow Jacket Square, 612 South Pike Rd., Sarver PA 16055
Saturday, Feb. 17 (walks) • All begin at 10:00 am
Beechwood Farms Nature Reserve, 614 Dorseyville Rd., Pittsburgh

Succop Nature Park • 185 Airport Rd., Butler PA 16002

Todd New Park Area • 154 Monroe Rd., Sarver PA 16055
UNION COUNTY
Sat., Feb. 17 (walk and talk) • 8:00 am
Union County Public Library, 225 Reitz Blvd., Lewisburg PA • sevenmountainsaudubon.org
Birdseed and Feeder Resources (some ideas):
Peace Valley Nature Center, Doylestown (self serve)
Honey Hollow Ed Center, New Hope (self serve)
Other area nature centers (call to confirm)
Wild Birds Unlimited stores
Wild Bird Center stores
Ace Hardware Stores
Moyers Indoor/Outdoor
Do It Best Hardware Stores
Other area hardware stores
Garden Centers
Agway Stores
Merrymead Farms (Worcester)
Costco, Lowes, Home Depot
LOCAL PA AUDUBON CHAPTERS • http://pa.audubon.org/chapters-centers
eBird Tips:

When you submit your information into the eBird record, you will asked some questions that might be unclear. For example, eBird will ask if you were "stationary" while birdwatching, or moving (travelling or incidental) and how far you were traveling. Here are some tips to help you respond correctly so the data is recorded accurately. Don't let this stop you from participating! Feel free to email if you have any questions: ssaffier@audubon.org
1. If watching feeders from one spot, then the protocol should be Stationary if continuous focused bird watching. Stationary counts should be for lists generated while walking less than 100 feet and focused birding of at least 5 minutes.
2. If walking in the yard (or elsewhere) over a distance greater than 100 feet and again continuous focused birding effort, Traveling protocol should be used. If using a Traveling count protocol, distance backtracking or going over the same route more than once should not be included in the distance entered.
3. If not continuous focused birding, than Incidental protocol should be used. In the past, folks have entered many hours as Stationary when in fact they were just casually looking out the window once in a while and should have entered the list as Incidental. If someone is somewhere not birding but notices a Bald Eagle or anything they want to report, but not focused on birding for more than 5 min., this can be entered as Incidental at the appropriately located site on the map. 30+ min continuous would be stationary or traveling.
4. If going to a place like Peace Valley Park, there are shared HOTSPOTS to use for locations. Using the Find it On a Map method and zooming and scrolling to the site will show them, and the observer can just select the appropriate hotspot. This is preferred over creating a new personal site.
5. The Find it On a Map method of plotting the location allows pinpointing the site at the observer's yard or at least close to the person's home. Naming it more specifically helps the reviewer determine if the location is correct. So, at least a street name would be nice or even a number and street.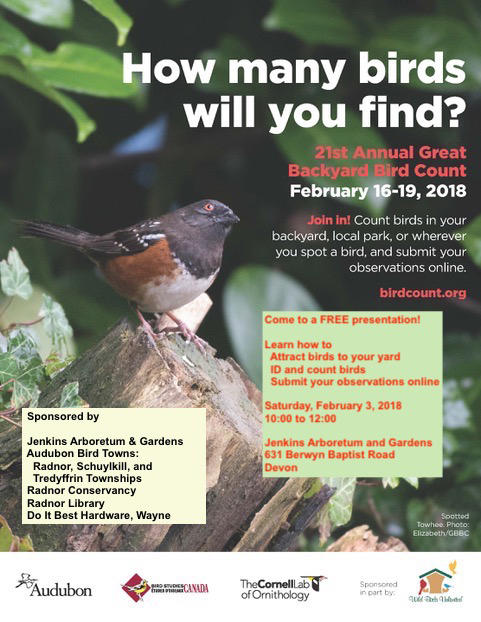 How you can help, right now
Help Support Audubon State
Birds need YOU! Get involved in helping to preserve our birds and their habitats today. There is something for everyone!