Kittatinny Partners
The coalition members listed below are the original group that helped to launch the Kittatinny Ridge Conservation Project in 2001.
The coalition members listed below are the original group that helped to launch the Kittatinny Ridge Conservation Project in 2001. Since then, many other organizations and agencies have signed on in support of the Kittatinny Project.
Appalachian Trail Conservancy
Mission: "A volunteer-based, non-profit organization covering from Maine to Georgia, dedicated to the preservation and management of over 232 miles of Appalachian Trail in Pennsylvania. In addition the organization promotes the Appalachian Trail as a primitive setting for outdoor recreation (on foot) and for learning."
Activities: Hiking, maintaining the trail.
http://www.appalachiantrail.org
Audubon Pennsylvania
Mission: "Conserve and restore natural ecosystems in Pennsylvania, focusing on birds, other wildlife, and their habitats through science, education and advocacy, for the benefit of humanity and the earth's biological diversity."
Activities: Habitat protection, education programs, training workshops. 22 chapters throughout the state offer field trips, natural history programs, education activities.
Click here for a map and list of local Audubon chapters.
Berks County Conservancy
Mission: "To preserve Berks County's cultural and environmental heritage for the benefit of future generations through preserving agricultural land, open space; protecting the quality of Pennsylvania's streams and groundwater; and preserving historic landmarks and scenic landscapes."
Activities: hikes, guest speakers, conferences, earth day celebration, tours
Location: Berks County
www.berks-conservancy.org
Central Pennsylvania Conservancy
Mission: To promote natural resource conservation through development of public awareness, education, and scientific research with the cooperation of state and local governments.
www.centralpaconservancy.org
Delaware and Lehigh National Heritage Corridor
Mission: Invite the public to explore the diversified heritage of Lehigh Valley, Delaware Valley, and Anthracite regions of Pennsylvania.
Activities: recreational opportunities include ethnic and musical celebrations, walking tours, and a wide variety of museums.
www.nps.gov/dele/Recreation.htm
Fort Indiantown Gap
Mission: "Committed to protecting the environment and working with surrounding communities to provide recreational opportunities, such as hunting and fishing to the public."
Activities: the public can obtain permits to hunt, fish, and collect firewood.
Location: Lebanon County
www.dmva.state.pa.us/ftig/site/default.asp
Hawk Mountain Sanctuary
Mission: "To foster the conservation of birds of prey worldwide and to create a better understanding of and further the conservation of the natural environment, particularly the Central Appalachian region."
Activities: (entrance and trail fees) hiking, bird watching, weekend educational programs. Members receive free admission to trails and lookouts.
General public with entrance/trail fees: panoramic views at the Sanctuary stretch 70 miles. Visitor center is open year round. The public can also visit the Mountain bookstore and Wings for Wonder gallery. Also, explore 8 miles of trail and a native plant garden.
Location: Southeastern PA (Kempton)
www.hawkmountain.org/default.shtml
Natural Lands Trust
Mission: "Primary focus is the permanent protection of significant open space in the greater Philadelphia region. This is accomplished through acquisition and conservation of land in addition to conservation easements and land planning."
Activities: members only
Location: Location: Delaware Valley: preserves Chester, Delaware, Lackawanna, Montgomery, Northampton, and Philadelphia
www.natlands.org
Schuylkill Headwaters Association
Mission: Committed to the protection of the Schuylkill River through working closely with 17 school districts to educate children and the public about the river.
http://www.pottsville.com/headwaters/
Schuylkill River Greenway Association
Mission: "To inform, coordinate, lead and assist communities, organizations, and citizens in envisioning the Schuylkill River region fully revitalized and restored."
Activities: conferences and workshops to members
www.schuylkillrivergreenway.org
Sierra Club Berks County
Mission: "Promotes conservation by influencing public policy through activism, education, lobbying, and litigation."
pennsylvania.sierraclub.org
The Nature Conservancy of PA
Mission: "To preserve the plants, animals, and natural communities that represent the diversity of life on Earth by protecting the lands and waters they need to survive."
Activities: conferences and a variety of on-line activities
Location: Monroe County/Fort Indian Town Gap nature.org/wherewework/northamerica/states/pennsylvania/
Lehigh Gap Nature Center
Mission: "To preserve wildlife and habitat through education, conservation, and research for the benefit of the earth and all of its inhabitants." Connection to Ridge: Kittatinny Raptor Corridor Project to preserve biological diversity through protection and preservation of Wildlife habitat along the Kittatinny- Shawangunk Ridge. The center monitors ecological vital signs of the mountain, assists where needed, develops ecotourism information, and releases educational material to the public."
Activities: Open house nights, visiting guests, and spring clean-ups.
Location: Slatington, PA (Lehigh County)
www.lgnc.org
Wildlands Conservancy
Mission: "To preserve, protect, and enhance the land, water, ecological, and recreation resources of the region. The Conservancy fulfills its vision and mission through involvement with many partners in proactive education and advocacy programs, various land-protection and stewardship strategies, science-informed water quality and ecological restoration projects, comprehensive community-planning efforts, and greenway and recreational-trail development."
Activities: Stream restoration projects, environmental eduction programs, Scouts, Metro-Wilderness Adventure, Bike & Boat River Island Campout, Lehigh River Sojourn
Location: Emmaus, PA (Montgomery county)
www.wildlandspa.org
The Conservation Fund
Mission: "Forges partnerships to preserve outdoor heritage-America's legacy of wildlife habitat, working landscapes, and community open space. Uses a unique brand of conservation driven by effectiveness, efficiency, and environmental and economic balance."
Location: Bald Eagle Mountain, Gettysburg National Military Park, Hubler Run, PA State Game Lands, Schuylkill River Watershed, Sproul St. Forest, and Swatara Creek (Hershey)
www.conservationfund.org
Appalachian Mountain Club (Delaware Valley Chapter)
Mission: "America's oldest conservation and recreation organization whose members actively enjoy, appreciate and protect the mountains, rivers, and trails of America's Northwest."
Activities: hiking, backpacking, kayaking, biking, cross-country skiing, snow shoeing, educational workshops, and trail maintenance.
Connection to Ridge: Care deeply for the Kittatinny Ridge for its role as a conduit for the Appalachian Trail and other trails. It is one of the most accessible special places for outdoor recreation in the area. The organization plays an active role in protecting the Ridge by maintaining a section of the Appalachian Trail that lies on the Ridge. The trails of the Kittatinny Ridge are also a favorite destination for outings led by AMC chapter volunteers.
Location: Delaware Valley Chapter: Lehigh Valley Group-Allentown, Bethlehem, Easton area.
www.amcdv.org
Eastern Forest Partnership
Mission: "Collaborative of organizations working to conserve the forest lands of the entire Seaboard from Maine to Georgia." Work to deliver a common message on the need for expanded conservation of eastern forestland and educating federal officials on the need for increased land conservation funding.
www.protecteasternforests.com
National Wild Turkey Federation (PA Chapter)
Mission: Work for the restoration and wise management of the American wild turkey through improving wildlife habitat and the preservation of turkey hunting traditions.
Connection to Ridge: In the ridge they perform various types of habitat work including: planting seedlings and bushes to produce future mast and berry crops, seeding and liming old roads close to all vehicular traffic, and working on spring seeps.
Location: (must be a member) Over 75 counties in PA with chapters.
www.panwtf.com
Pennsylvania Deer Association
Mission: Actively engaged to the wise management of Pennsylvania's deer herd.
Activities: outdoor shows, 1st annual PA deer classic and outdoor expo, and Bull and Pig roast.
www.padeer.net
PA Department of Conservation and Natural Resources
Mission: "To maintain, improve and preserve state parks and to manage state forest lands to assure their long-term health, sustainability, and economic use. In addition, to provide information on Pennsylvania's ecological and geologic resources and to administer grant and technical assistance programs."
Activities: cross-country skiing, snowmobiling, ice fishing, ice-skating, and sledding
http://www.dcnr.state.pa.us
PA Federation of Sportsmen's Clubs
Mission: "To provide a statewide, united voice for the concerns of all sportsmen and conservationists; to insure their rights and interests are protected, and to protect and enhance the environment and natural resources."
Activities: meetings, fishing activities, and youth programs
www.pfsc.org
PA Fish and Boat Commission
Mission: The protection and management of aquatic resources in order to provide fishing and boating opportunities to the public.
Location: Harrisburg
www.fish.state.pa.us
PA Institute for Conservation Education
Mission: "Founded in 2002, it is a non-profit educational organization dedicated to advancing awareness, knowledge and skills in natural history and conservation of natural resources by building an ecologically literate and engaged public."
Connection to Ridge: The Kittatinny Ridge region serves as an outdoor classroom providing ideal locations for natural history and conservation field-based learning opportunities for the public. Through the ridge people can be exposed to the diversity and importance of Pennsylvania's natural and wild landscapes.
Activities: serves students of all regions providing natural history seminars, teacher workshops, conservation internships, and youth programs.
www.services.juniata.edu/station/pice.html
PA Environmental Council
Mission: To protect and enhance the environmental quality of the Commonwealth by working on such issues as air quality, water resource protection, land use and growth management, and the re-use of contaminated industrial sites.
Connection to Ridge: The Kittatinny Ridge falls under each of the above categories. In cooperation with Audubon PA, the Pennsylvania Environmental Council is working to develop a "conservation toolbox" for the Kittatinny Ridge. Landowners and municipalities along the ridge, and ridges in general will use the toolbox to protect and conserve ridge resources. The goal is to research all of the conservation techniques that are available to landowners and municipalities, and then create an "information sheet" for each technique.
Location: Offices in Harrisburg, Philadelphia, Pittsburgh, and Wilkes-Barre.
www.pecpa.org
Kittatinny & Pinnacle Association
Mission: The preservation of the Kittatinny Ridge, particularly in Berks Country.
Connection to Ridge: Strong desire to protect the ridge from development and logging due to its global importance for the migration of birds.
PA Land Trust Association
Mission: "Promotes voluntary land conservation by supporting the missions of land trusts and building a positive climate for conservation in Pennsylvania."
www.conserveland.org
How you can help, right now
Donate to Audubon
Help secure the future for birds at risk from climate change, habitat loss and other threats. Your support will power our science, education, advocacy and on-the-ground conservation efforts.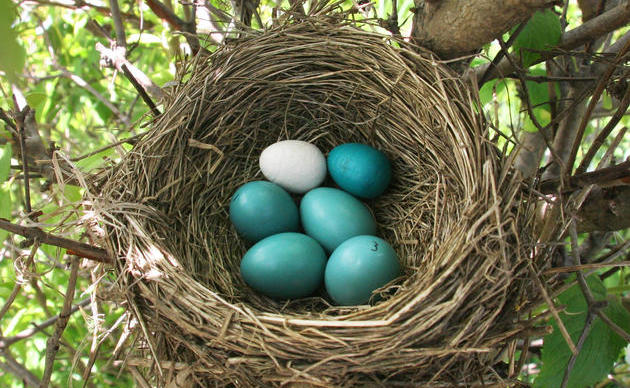 Become a Monthly Donor
Donating monthly is flexible, easy and convenient and makes you a champion birds can count on, no matter the season.