The Discovery Center, a first-of-its-kind project between the Audubon Society and the Philadelphia Outward Bound School, expands access to nature and educational programming in local communities.
PHILADELPHIA, Penn. (September 28, 2018) – Today marks the grand opening of The Discovery Center, a new nature-based educational facility in Fairmount Park that brings together the combined expertise of Audubon Pennsylvania and the Philadelphia Outward Bound School.
"Today is a homecoming. The Strawberry Mansion Reservoir has always belonged to this community—and its restoration is the work of the entire community," said David Yarnold, (@david_yarnold) president and CEO of the National Audubon Society. "We are proud to have worked alongside Strawberry Mansion community leaders to make today possible. The Discovery Center now joins Audubon's network of 41 nature centers and sanctuaries across the country—each of them reflecting the communities that make each one a unique and special experience for visitors."
The Discovery Center is the first joint venture between the two storied organizations that will bring outdoor and experiential opportunities and programming to the area and expand access to a key part of Fairmount Park – the newly rechristened Strawberry Mansion Reservoir, which will be made accessible to the public for the first time in nearly 50 years.
The modern, functional and environmentally-friendly space, designed by acclaimed local architecture firm DIGSAU, will also be open to the public on September 29 for the inaugural monthly Discovery Day. This day of celebration will feature community festivities, educational programming, live bird demonstrations and new opportunities to experience nature around the Strawberry Mansion Reservoir.
"The Discovery Center has been a labor of love for many years, and it's an honor to share this day with so many of our partners who made it all happen. Audubon Pennsylvania is excited and humbled by our unique collaboration with Philadelphia Outward Bound School, and by the tremendous support The Discovery Center has received from city officials, local community leaders, and funders," said Greg Goldman, Executive Director of Audubon Pennsylvania. "Birds are an ever present barometer for the well-being of our surroundings—birds need clean water, clean air and safe places to raise their young—just like us. What's good for birds is also good for people. It is thrilling to have the opportunity to build upon the legacy of Fairmount Park to nurture new conservation leaders from within local communities."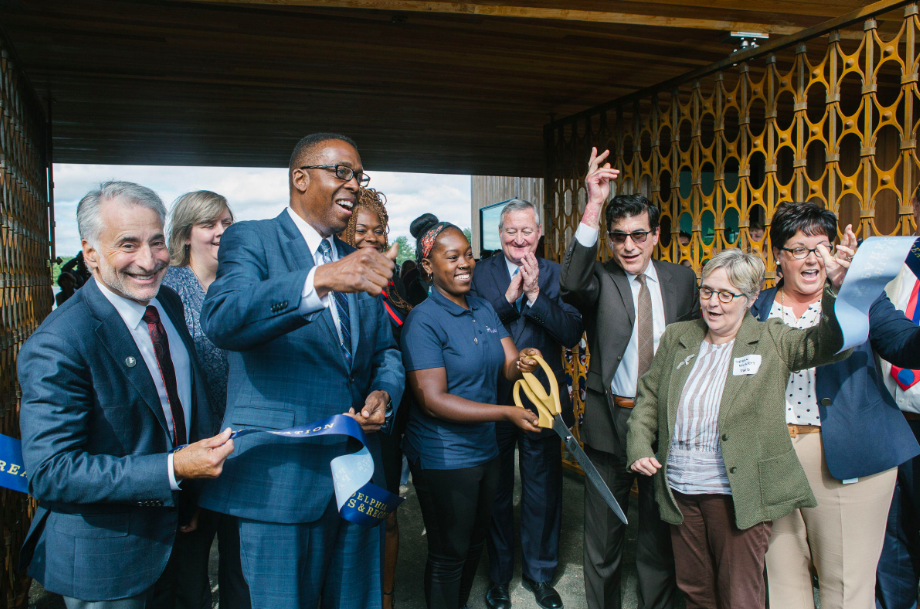 "So many people have strong and wonderful memories of the Strawberry Mansion Reservoir, and all of us at Philadelphia Outward Bound School are proud to play a role in reconnecting this unique space with the community," said Meg Wise, who was named Executive Director of Philadelphia Outward Bound School earlier this month. "I am honored to step into a leadership role at Philadelphia Outward Bound School at this exciting time, and eager to use The Discovery Center amenities to deepen the impact that our programs have on students in the coming years."
The Discovery Center is situated on an historic 19th century reservoir, and serves as a critical habitat for more than 150 migratory and native bird species. Audubon's science team designated the reservoir as an Important Bird Area in 2005. This educational center aims to have a long-term impact on the Philadelphia region by connecting future generations with the environment, motivating them to engage in healthy outdoor activities, and inspire them to value and protect the natural world.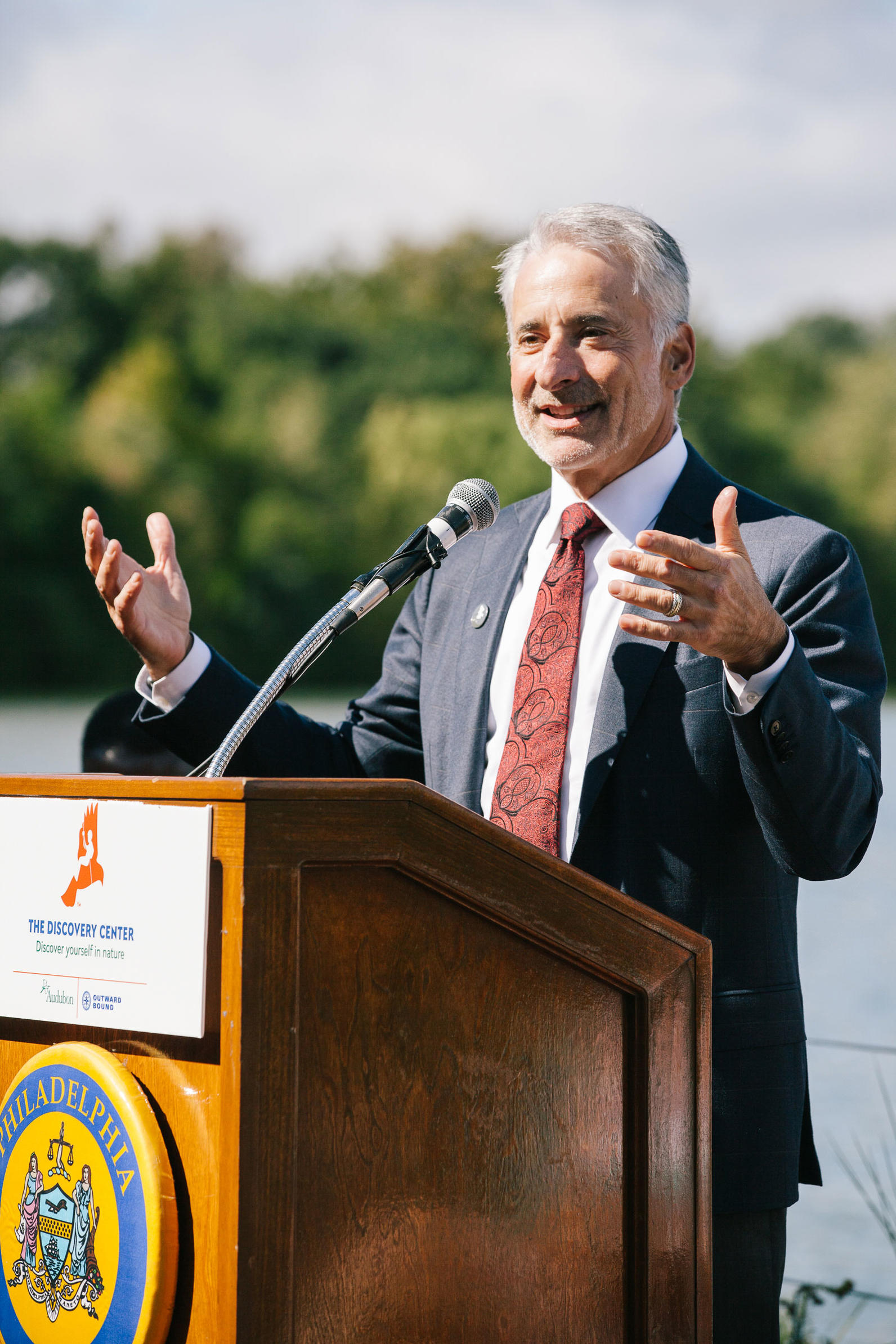 The Discovery Center was built thanks to generous contributions from an array of individual, institutional and civic leaders, including prominent support from the Knight Foundation and William Penn Foundation, the Commonwealth of PA, the City of Philadelphia, and numerous philanthropic families.
The $18.5 million project is also the product of a close partnership between both organizations and the City of Philadelphia, which has extended a long-term lease that permits The Discovery Center to be built on public land.
"The Discovery Center will be a terrific resource for the Strawberry Mansion community and beyond," said the Honorable Jim Kenney, Mayor of Philadelphia. "This center is the product of a unique partnership focused on education and protecting our environment. Now, the community has an institution that is dedicated to protecting the natural beauty of our public spaces."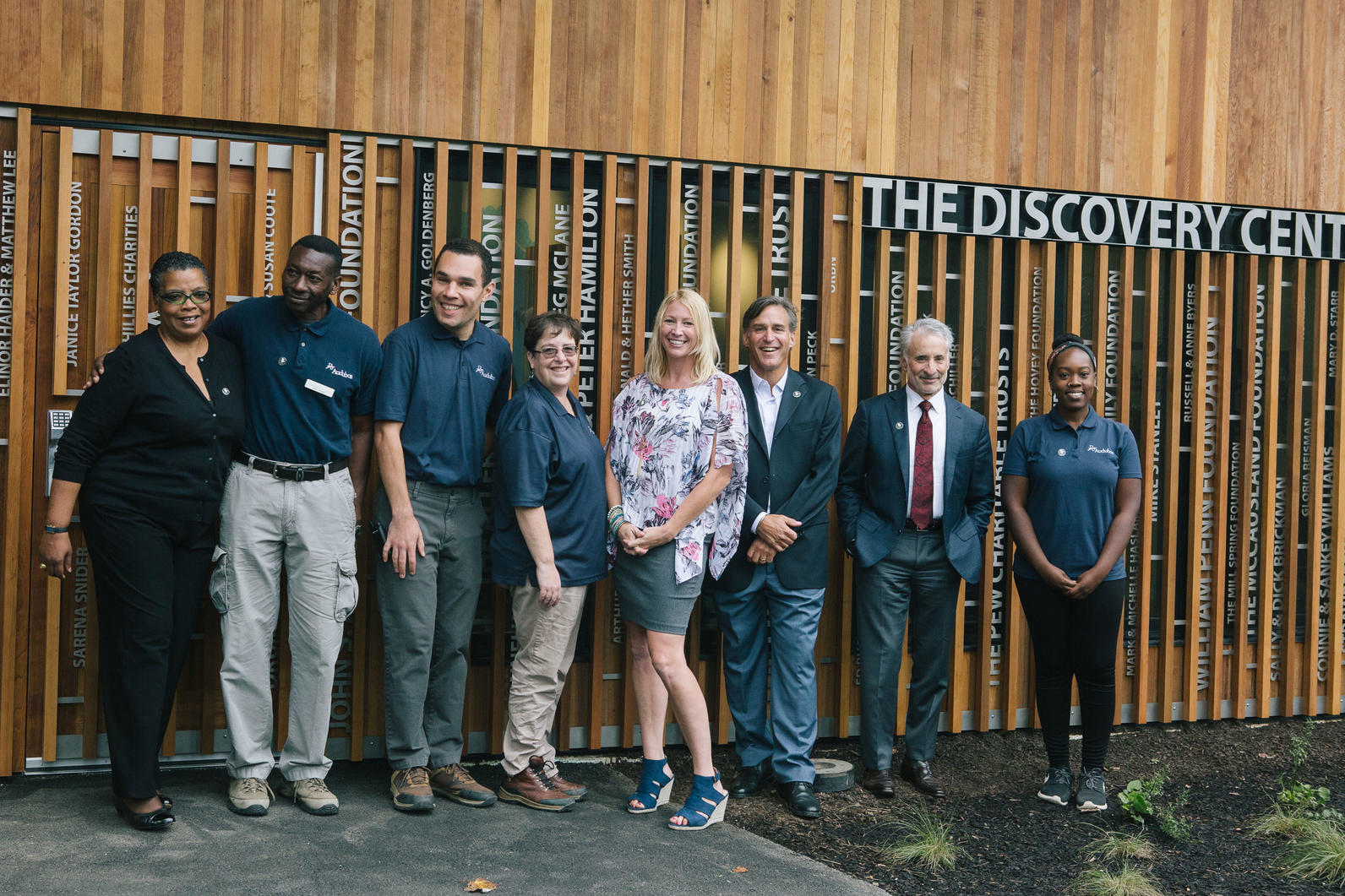 The Discovery Center opening follows an extensive community engagement process that included significant leadership from stakeholders from the Strawberry Mansion community. Collaboration with Strawberry Mansion residents will continue, as will efforts to expand programming to engage nearby residents.
"This is an exciting time for Strawberry Mansion residents because we get to re-discover and re-engage a place that was very special us," said Tonnetta Graham, Executive Director of Strawberry Mansion CDC. "In the past, the reservoir had been a recreational outlet for the community, with many using it for hiking, walking, exercising, and relaxing. We are enthused that The Discovery Center will allow us to introduce this space to the generations of residents who, for decades, grew up with a curiosity about what was behind those fences. Audubon Pennsylvania and the Philadelphia Outward School are our community partner and neighbor now. We look forward to continuous community engagement that will result in an inviting public space that provides environmental education, relevant programming, and a tranquil place for all Mansion residents to enjoy."
In addition to monthly Discovery Days, in which residents across the region will be able to get a taste of program offerings, the facility's interpretive lobby, educational exhibit and trail around the reservoir will be open to the public five days a week May through October and three days a week November through April. A variety of environmental- and community-inspired programs will also be offered frequently, many of which will be free of charge.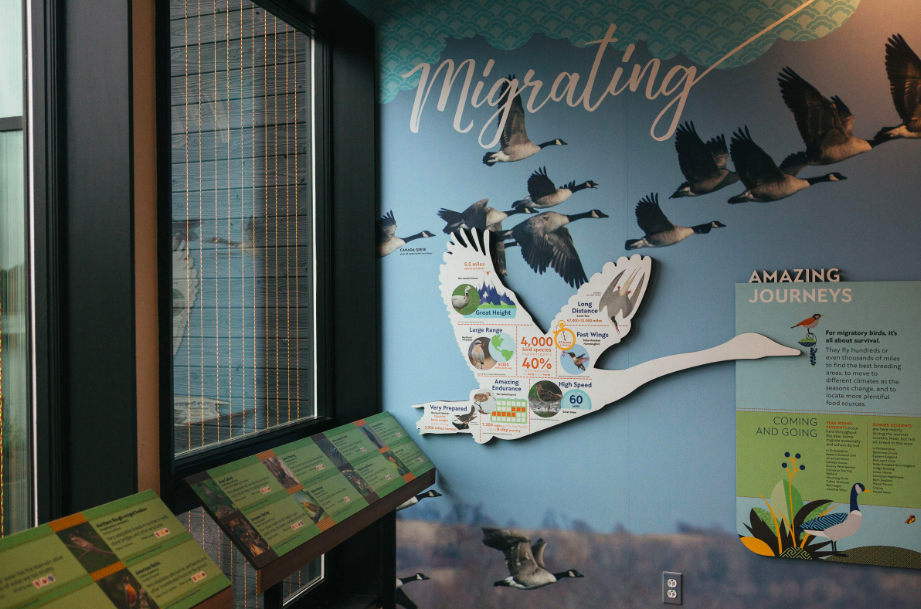 "I am thrilled that children, families, and all Philadelphians will now have the opportunity to experience this divine public space," said Kathryn Ott Lovell, Philadelphia Parks & Recreation Commissioner. "This magnificent public space will teach them about nature and leadership in a holistic and intimate setting."
The Discovery Center will host free Audubon-guided bird and nature walks around the Strawberry Mansion Reservoir for everyone to experience the joy of spotting a new bird, whether you're a new or an experienced birder. Visitors will enjoy Audubon's interactive, educational workshops and classes to learn about the importance of planting native plants, habitat conservation around the reservoir, and Philadelphia's place in the Delaware River watershed to inspire new lifelong passions of the outdoors and stewards of the earth. Audubon programming will also provide opportunity for community-tailored workshops, based on interests expressed at monthly community meetings.
For the Philadelphia Outward Bound School, which serves over 6,000 students annually, The Discovery Center will offer important new space for programs with local schools, businesses, non-profits and community partners, as well as training space to prepare students to participate in wilderness expeditions, in which youth build leadership skills through unique outdoor experiences.
"The opening of The Discovery Center deepens Philadelphia Outward Bound School's 25-year commitment to serving thousands of students each year from across our city and the Delaware Valley," said Dan Hoffman, Operations Director of Philadelphia Outward Bound School. "This fantastic new space will strengthen our existing programs while also allowing us to better serve nearby neighborhoods, like Strawberry Mansion, and the broader region. We thank all the people who believed in this effort, from our funders to local elected officials."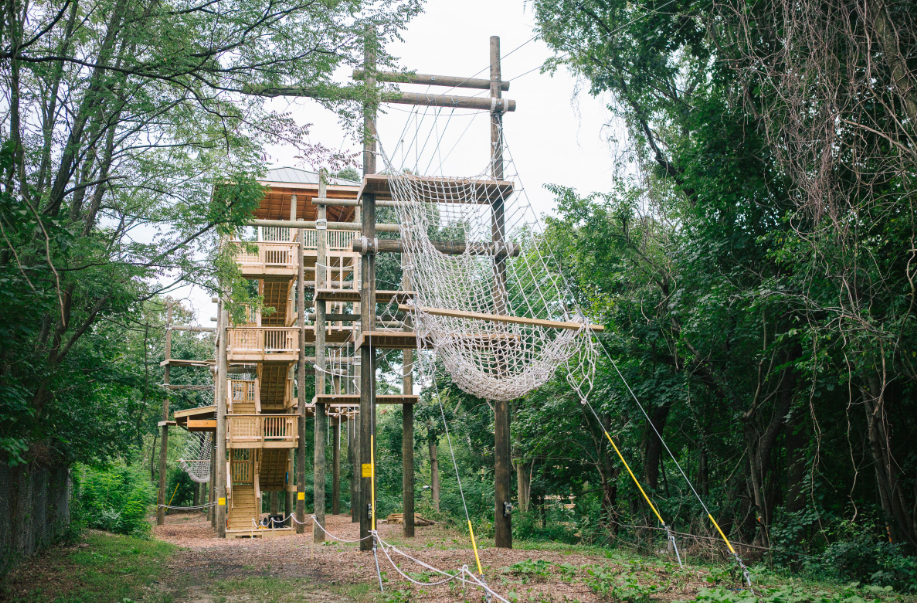 About The Discovery Center
The Discovery Center is a joint venture of two non-profit organizations, Philadelphia Outward Bound School and the Audubon Society, committed to providing outdoor and experiential education opportunities for local communities like Strawberry Mansion in the Philadelphia region. The environmentally-friendly 14,000 sq. ft. facility and newly restored 37-acre Strawberry Mansion Reservoir will offer tailored leadership and character development programs from Philadelphia Outward Bound School as well as free nature programming from Audubon Pennsylvania. The Discovery Center joins the National Audubon Society's network of 41 nature centers and sanctuaries in communities across the country. Learn more about The Discovery Center at www.discoveryphila.org or follow us on Facebook (@TheDiscoveryCenterPhiladelphia).
About Audubon
The National Audubon Society protects birds and the places they need, today and tomorrow. Audubon works throughout the Americas using, science, advocacy, education and on-the-ground conservation. State programs, nature centers, chapters, and partners give Audubon an unparalleled wingspan that reaches millions of people each year to inform, inspire, and unite diverse communities in conservation action. A nonprofit conservation organization since 1905, Audubon believes in a world in which people and wildlife thrive. Learn more how to help at www.audubon.org and follow us on Twitter and Instagram at @audubonsociety.
Audubon Pennsylvania conserves and restores natural ecosystems in Pennsylvania, focusing on birds, other wildlife, and their habitats for the benefit of humanity and the earth's biological diversity. Learn more at pa.audubon.org and by following us on Facebook, Twitter and Instagram at @audubonpa.
About Philadelphia Outward Bound School
The Philadelphia Outward Bound School's mission is to change lives through challenge and discovery. Outward Bound is the premier, experience-based educational organization focused on character development, leadership skills and service to community. As part of a national network of 11 Outward Bound schools, Philadelphia Outward Bound School provides students of all ages and circumstances with learning experiences that build their strength of character and the determination they need to thrive – in the classroom, in the workplace, in the family and in the world. For more information, visit www.outwardboundphiladelphia.org.
Media Contact: Chandler Lennon, (212) 979-3063, clennon@audubon.org
###
How you can help, right now
Donate to Audubon
Help secure the future for birds at risk from climate change, habitat loss and other threats. Your support will power our science, education, advocacy and on-the-ground conservation efforts.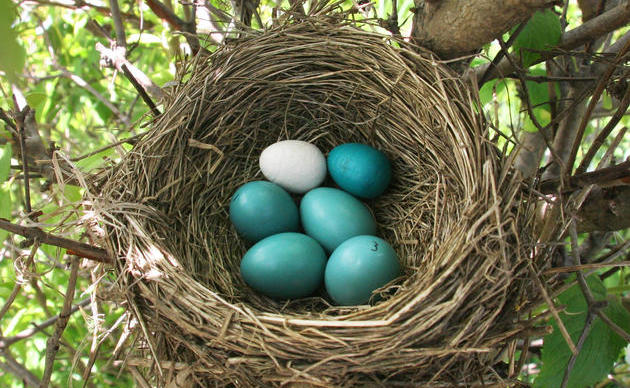 Become a Monthly Donor
Donating monthly is flexible, easy and convenient and makes you a champion birds can count on, no matter the season.