Meadowbrook Bird Sanctuary – Montgomery County, Abington Township
In seven short years, the Meadowbrook Bird Sanctuary, located at the intersections of Washington Lane and Meadowbrook and Revelation Roads in Abington Township, Meadowbrook, PA has grown from a construction site of compacted soil in a barren lot. The township sewer project was completed but an eyesore was left behind. The neighbors adopted the site and formed a non-profit organization. They are keeping true to their mission to preserve this open space of one acre, to beautify the landscape with trees, bushes, benches, bird houses and walking paths that attract birds and neighbors and to utilize the property for education.
Small groups from local schools, churches, synagogues and garden clubs come to Meadowbrook Bird Sanctuary to hold classes and to study nature at our unique park. Numerous birdfeeders, attract cardinals, goldfinches, woodpeckers, nuthatches and chickadees. Trees, shrubs and perennials produce abundant flowers and seeds to attract insects and birds year-round. Visit us physically or go to www.tweettweet.org.
West Chester University – Chester County, West Chester, PA
In celebration of EARTH WEEK 2009 West Chester University's President Weisenstein dedicated our first outdoor classroom/laboratory. This area will promote the use of native plants to attract insects and birds to the site. An assortment of bird feeders is part of Cornell University's Project Feeder Watch Program. The area is certified by the National Wildlife Federation's Backyard Habitat Program and Audubon Pennsylvania's Bird Habitat Recognition Program.
Rain barrels, green walls, warm season grasses and green roof are planned for the area. Students will be exposed to environmentally friendly approaches/technologies they can take to their parents' homes now and their homes after graduation.
The idea for the project came from the Biology Club in November 2006 and working with Dr. Gerald Hertel, Stewardship Manager of the Gordon Natural Area (on the south campus of WCU) got a small area designated as an outdoor classroom. The first native shrubs and wildflowers were planted in April 2007 and the first native trees in April 2009. Three 15 year- old -trees ( 2 red maples & one green ash)were already located at the site. In September 2009 another small area right next to the outdoor classroom was designated as an outdoor garden. Herbs and vegetables will be grown there as well.
Species Diversity – Lancaster County
I have known that the Indigo buntings were common in this area, but I've never seen one in this garden before yesterday. The trees and shrubs are beginning to mature now and more species of birds are being attracted to it. I've always had bluebirds, mockingbirds, tree sparrows, tree swallows and of course the house sparrow nesting in the garden. But this is the third year for the Orchard Oriole, second year for robins to fledge (and the number has doubled this year). The first year for the cardinals, catbirds, wood thrushes, chickadees and titmouse. There are hummingbird nests in the garden somewhere, but I can't seem to see them. I have at least five hummers at the feeder right now and they never seem to leave the property.
J.S., Conestoga PA
How you can help, right now
Donate to Audubon
Help secure the future for birds at risk from climate change, habitat loss and other threats. Your support will power our science, education, advocacy and on-the-ground conservation efforts.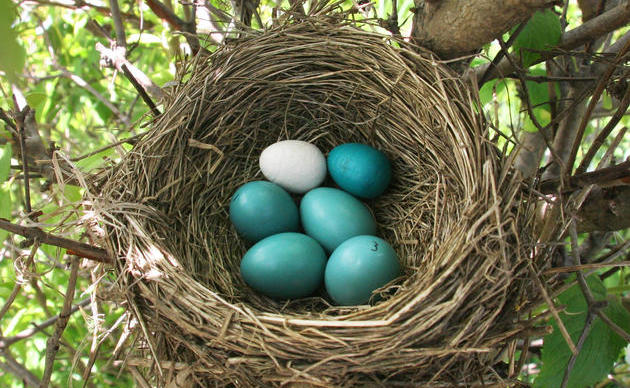 Become a Monthly Donor
Donating monthly is flexible, easy and convenient and makes you a champion birds can count on, no matter the season.