Bird-Friendly Communities
Plants for Birds in the Schuylkill Highlands
Tucked inside the Delaware River Watershed sits the ecologically and economically vital region known as the Schuylkill Highlands, covering portions of northern Chester and southern Berks counties.
Water flows through our communities, farms, and faucets, connecting millions of people across four states as part of the Delaware River Watershed. And although the streams of the Schuylkill Highlands are among the healthiest in the region, they face increasing pressure from residential and agricultural development. You can help ensure that this bastion of unbroken forests, high-quality streams, and unique wildlife habitats stays healthy for generations to come. Adding native plants to your property provides food and shelter for birds and wildlife, while supporting healthy waterways by absorbing and filtering rainwater and runoff.
In collaboration with the Delaware River Watershed Initiative, Audubon's Plants for Birds program has come to the Schuylkill Highlands to help support you in those efforts. We are looking for streamside property owners who are interested in enhancing their space with native plants.
Would you like to help birds and people by adding native plants to your yard? Is your home located on or alongside a stream in the Schuylkill Highlands region?
Benefits of participating in the Plants for Birds program in the Schuylkill Highlands:
Access to Audubon's team of Plants for Birds experts
A sampling of free native plants to start your bird-friendly habitat off with strong roots
Resource kit for adding additional native plants that complement those already planted
Ready to get started? Click here to register!
Not in the Schuylkill Highlands cluster? Scroll down to the bottom of the page for free informational resources to help you add native plants to your yard no matter where you live!
Birds of the Schuylkill Highlands

Keep an eye out for these seven birds and help us track them using eBird.

Louisiana Waterthrush

A harbinger of healthy landscapes, this bird depends on healthy waterways for nearly every aspect of its survival from cool, flowing waters that support a range of aquatic life to feed on to sturdy stream banks that offer prime nest sites.

Photo: Andy Reago & Chrissy McClarren/Flickr Creative Commons

Scarlet Tanager

Dwelling in the high canopies of healthy forests, this bird relies upon conservation efforts to protect both its summer and winter habitats from sprawl and fragmentation.

Photo: Linda Steele/Audubon Photography Awards

Northern Rough-winged Swallow

A connoisseur of insect fare, this bird thrives in habitat with a diverse range of native plants. With a wide assortment of insect-friendly plants, this bird will have plenty of fuel for reproduction and migration.

Photo: Lynn Cleveland/Audubon Photography Awards
Eastern Phoebe

With its namesake song, the Phoebe is one of the earliest spring arrivals, During their summer stay in our region Phoebes feed on flying insects found along local streams.

Photo: Andrea Hedblom/Audubon Photography Awards

Great Blue Heron

Always in need of healthy waterways, this statuesque bird finds food and shelter both in and alongside streams.

Photo: Tiffany Englander/ Audubon Photography Awards

Wood Thrush

A prime example of a common bird that is declining, the Wood Thrush is particularly dependent on the presence of native shrubs in order to thrive and successfully reproduce.

Photo: Will Stuart

Belted Kingfisher

This bird is clean water expert and utilizes every part of streamside habitat from clean water and tall trees for hunting to sturdy banks for nesting.

Photo: Janet DiMattia/Audubon Photography Awards
Want to do more?
Generous support for Audubon's Plants for Birds program in the Schuylkill Highlands is provided by the William Penn Foundation.
Learn More and Get Involved
Donate to Audubon
Help secure the future for birds at risk from climate change, habitat loss and other threats. Your support will power our science, education, advocacy and on-the-ground conservation efforts.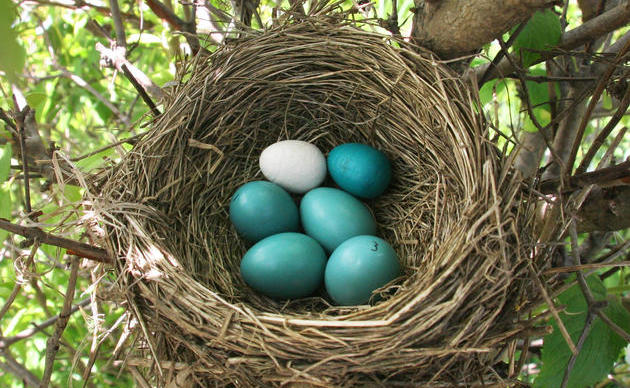 Become a Monthly Donor
Donating monthly is flexible, easy and convenient and makes you a champion birds can count on, no matter the season.