News
A Moment to Thank the Flock We Are So Proud to Fly With
Our conservation successes would not be possible without our amazing volunteers, partners, and supporters. We are so fortunate to be surrounded by volunteers who consistently give their time and talents to help birds and the places they need. Their dedication, selflessness, and generosity are boundless. The contributions of these volunteers, coupled with the collaboration of many partners across our Mid-Atlantic programs, have been critical to the work we do.
Here are just a sampling of stories expressing how grateful we are each and every day to have the chance to work alongside them.
Planting for Change

Dedication for a Lifetime

Lending A Hand

Whitby Meadow Volunteers Photo: Kathleen Martin/Audubon

Bird-Friendly Blooms Volunteers. Photo: Lycoming Audubon Society

Photo: Patterson Park Audubon Center

"The time and effort that volunteers have provided at Whitby Meadow is truly invaluable. We would not be able to reach our conservation goals in the Delaware River Watershed Program without the support of volunteers in the field. Thank you so much to every single person that has volunteered with us this year. We are grateful for your giving spirit and the successes that you've helped us achieve!"




~ Kathleen Martin, Program Coordinator, Delaware River Watershed Program

"Mountains of thanks to Audubon chapter leaders who continue, year in and year out, to devote their time and talents to birds and the places they need. With a network of 26 chapters in Pennsylvania, Maryland and the District of Columbia, there are hundreds of dedicated volunteers leading bird walks, teaching their communities about native plants, making places safer for birds through collision education, and stewarding the next generation of Auduboners through youth education. There isn't a thank you big enough to cover all that you do and we are so grateful to come alongside you in this work. Thank you!"

~ Kelly McGinley, Network Engagement Manager, Audubon Mid-Atlantic

"While working outdoors with children, volunteers are my extra eyes, ears, and hands. They allow me to teach in impactful ways and lose myself in students' curiosity and wonder. Therefore, I am grateful to volunteers every day."

~ Rosia Frazier, Education Manager, Patterson Park Audubon Center

Grass to Gardens

Lemons to Lemonade

Mussel Memory

Samara Project Volunteers Photo: Kelly McGinley/Audubon

Photo: Patterson Park Audubon Center

Photo: Bria Wimberley/Audubon

"Volunteers are the beating heart of our community conservation work. As part of Audubon's Samara Project this year, an entire community came together to convert over 10,000 square feet from grass to garden with over 2,500 native plants, shrubs, and trees. Neighbors came together to create a vision and then welcomed students, artists, and partners from all over the City to bring the project to life. There was never a day that was too hot, too wet, too buggy, or too chilly for them to come out and help. I'm so grateful for their hard work, their humor, and their seemingly boundless care for the world and its creatures. We are better for having the opportunity to work alongside you!"

~ Kelly McGinley, Network Engagement Manager, Audubon Mid-Atlantic

"I recently had a very bad day turn into a very good day – it started with a broken down truck and ended with 500 native plants being installed by a newly painted neighborhood entrance sign, transforming a forgotten corner in southwest Baltimore. Audubon's partner, a community association president named Chris, was so upbeat despite the setbacks – 'I know today was hectic and didn't go completely as planned; but, we got it done and it looks amazing!' Neighbors' smiles and pride made all the difference for me that day, and for this I am eternally grateful."

~ Erin Reed Miller, Senior Coordinator, Bird-Friendly Communities, Patterson Park Audubon Center

"We at the Discovery Center would like to thank our "Mussel Maniac" volunteers who come in monthly to help measure our freshwater mussels! Mussels are great filter-feeders and will help to create a better environment for us all once they transition back into our watershed. Our volunteers measure over 850 mussels, along with abiotic factors, at the Strawberry Mansion reservoir, helping us collect data to determine ideal conditions for mussel success! Thank you for your hard work and passion towards water conservation!"

~ Bria Wimberly, Environmental Educator, The Discovery Center

Through Thick & Thin

Safe Sanctuary

Increasing Our Understanding

Flood Cleanup-Up Volunteers Photo: Audubon

Nesting Raft in Place Photo: Audubon

Volunteer collision monitor Stephen Maciejewski. Photo: Alejandro Alverez

"Many heartfelt thanks to our extremely loyal and dedicated volunteers at the John James Audubon Center. It has been a tough two years for all of us and your unwavering dedication to the Center, our birds, and our cause was the only way we survived the temporary closure of the site. Thank you so much!"

~ Mike Oscar, Volunteer Engagement & Retail Manager, John James Audubon Center





"We are very thankful for the supporters and volunteers who make our conservation work in Maryland possible. This year, our pilot project to provide state-endangered Common Terns with a safe place to nest in the Maryland Coastal Bays was a great success, with 23 pairs of terns taking up residence on the wooden nesting platform that we placed in a remote corner of Chincoteague Bay. Projects like this would not be possible without the financial support, volunteer time and hard work of our committed network of friends and supporters. We are equally thankful to our fantastic partners on this project at Maryland Department of Natural Resources and Maryland Coastal Bays Program."

~ Dave Curson, Director of Bird Conservation - Maryland, Audubon Mid-Atlantic

"Each year over 100 volunteers contribute their time and expertise to the work of Audubon Mid-Atlantic by monitoring bird populations in Philadelphia. We greatly appreciate these efforts, as the valuable data collected by volunteers help inform our conservation work in urban areas. Without them, Audubon's work to create bird-friendly communities, in particular, would not be as successful."

~ Keith Russell, Urban Conservation Program Manager

Advocates in Action

"Because of your outreach to members of Maryland's and Pennsylvania's Congressional delegations, the federal Infrastructure Investment and Jobs Act (IIJA) that was signed into law earlier this month includes significant funding for natural infrastructure projects like those used by Audubon Mid-Atlantic to curb greenhouse gas emissions and conserve critical habitats. One highlight among many is the inclusion of $26 million in supplemental funding for the Delaware River Basin Restoration Program championed by Audubon stakeholders including the many chapter members who live along this important watershed. Thank you for your efforts to get this bill passed and thank you to the bipartisan Delaware River Watershed congressional caucus co-chairs, Rep. Brian Fitzpatrick (R-PA) and Rep. Antonio Delgado (D-NY), for their leadership."

~ Suzanne Biemiller, Vice-President and Executive Director, Audubon Mid-Atlantic

Black-throated Blue Warbler Photo: Jesse Gordon / Audubon Photography Awards
How you can help, right now
Donate to Audubon
Help secure the future for birds at risk from climate change, habitat loss and other threats. Your support will power our science, education, advocacy and on-the-ground conservation efforts.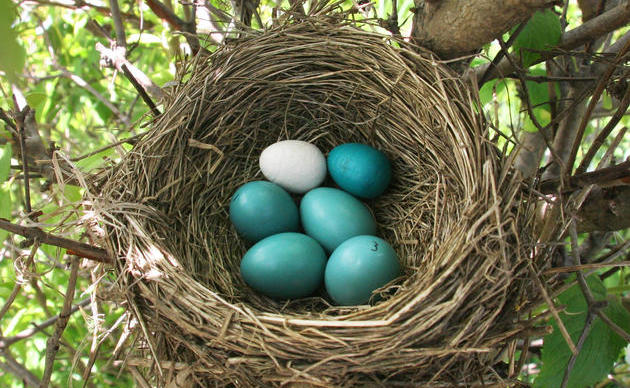 Become a Monthly Donor
Donating monthly is flexible, easy and convenient and makes you a champion birds can count on, no matter the season.