Last fall, leaders from the Lycoming, Seven Mountains, and Appalachian Audubon Societies began sowing the seeds of a new type of partnership designed to help birds. Together with Audubon Pennsylvania, these chapters have been piloting the new Bird-Friendly Blooms project as part of Audubon's larger Bird-Friendly Communities strategy. Each chapter has been cultivating relationships with local garden centers, nurseries, and landscapers to substantially increase consumer access to native plants in their local communities.
Across the state, many chapters have been working diligently on Plants for Birds projects through Audubon's Bird-Friendly Communities. Time and again, chapter leaders share the same feedback. They note that people are always interested, always eager to do more, but often find it difficult to take the next step of actually purchasing native plants due to limited options in their communities. In some cases, the closest nursery selling native plants is an hour away.
Introducing Audubon Pennsylvania's Bird-Friendly Blooms project. The project aims to support chapters in their outreach and education efforts around the benefits of native plants for bird and wildlife habitat by offering new pathways for partnerships. The pilot program has been led by Gary Metzger and Ted Loy of Lycoming Audubon Society, Kay Cramer and Bonnie Ingram of Seven Mountains Audubon Society, and Chris Kemmerer of Appalachian Audubon Society.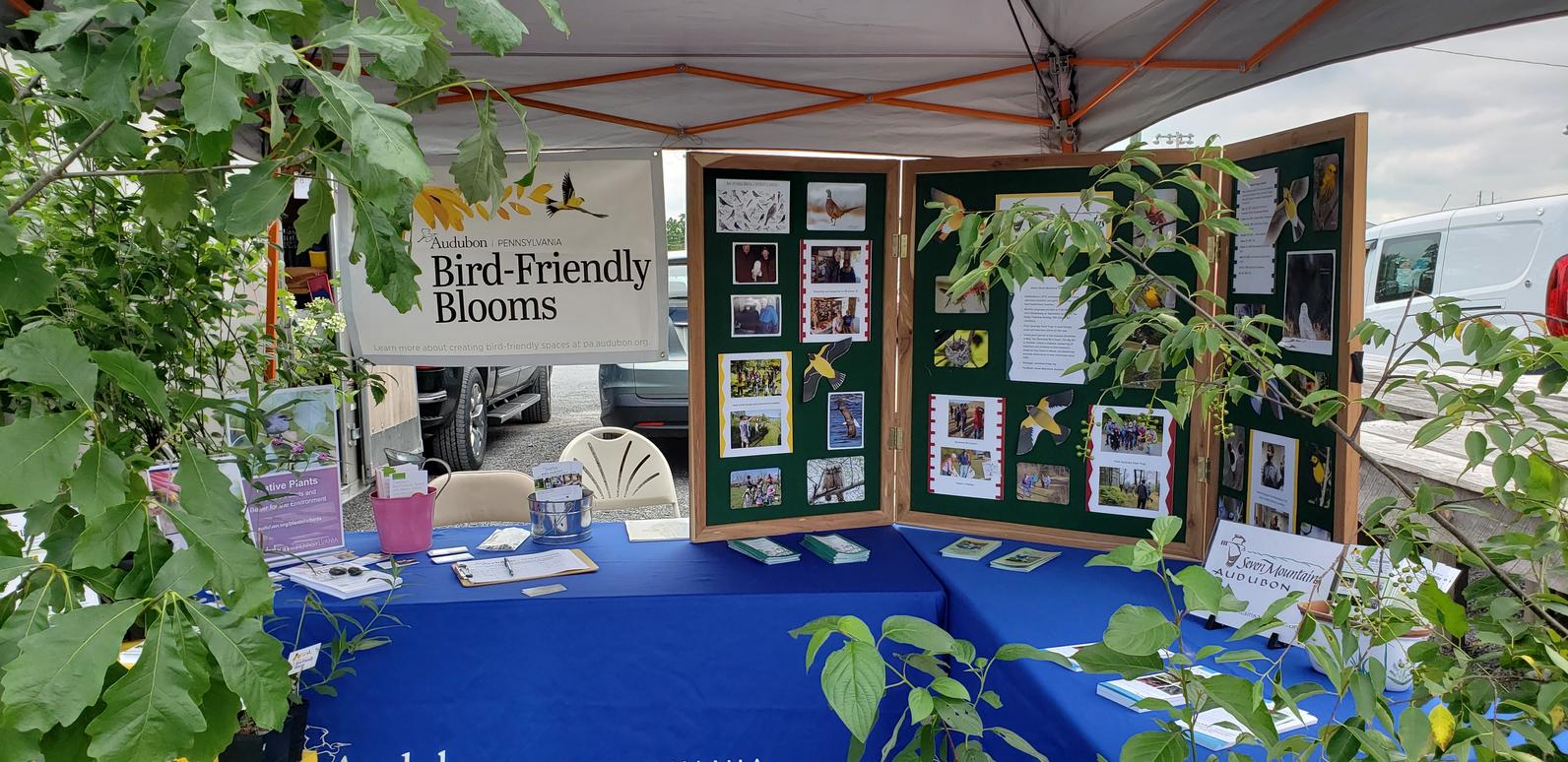 The team, in collaboration with Audubon Pennsylvania, developed a promotional kit that makes selecting, displaying, and promoting native plants a snap. First, the team developed the 2020 Birdy Dozen, a list of six perennials, three shrubs, and three trees that are as beautiful as they are beneficial. Next up, each chapter got down to business cultivating relationships with business owners in their local communities. To date, the team has welcomed three garden centers and a landscaping company into the fold, all of which are actively engaged in promoting the project through store displays, custom plant tags, educational take-away pieces, and posters.
Although the ongoing pandemic hindered some portions of the original roll-out plan, the team has worked creatively and tirelessly to adapt to changing conditions while still managing to successfully reach a number of goals. The project will continue through the fall planting season, followed by a thorough evaluation by the team in preparation for sharing the model with chapters across the state.
Learn more about the Bird-Friendly Blooms project here. If you would like to get involved, email Kelly McGinley.