Birds
Along the Kittatinny Ridge
In the early 1900s, at a time when timbering and charcoal-making were major activities along Pennsylvania's forested ridges, the slopes of the Kittatinny Ridge were also being visited by hunters in the early fall. The hunters knew that the prominent sandstone rock outcrops along the Ridge afforded prime views of migrating birds, and shooting the early season migrants became a popular sport. The hunters would claim to be practicing their aim for the upcoming small-game season. The shooters were well motivated by a $5/head Pennsylvania Game Commission bounty offered for Northern Goshawks shot between November 1 and May 1. Since few hunters had the ability or desire to confirm identification in-flight, most any raptor that flew by was subject to their aim.
By the 1930s, the conservation philosophies of Aldo Leopold, Gifford Pinchot, and John Muir began taking hold. News and photographs of the hawk massacres reached, and greatly distressed, a member of the New York Hawk and Owl Society named Rosalie Edge. In 1933 and 1934, when America was still reeling from the effects of the Great Depression, Ms. Edge raised enough funds to acquire the land surrounding a particularly active shooting spot on the Kittatinny Ridge in Berks County. This site became the first wildlife sanctuary in the world dedicated to the preservation, observation, and study of raptors. Today, Hawk Mountain Sanctuary continues to be a world-renowned raptor observation, education, and research facility.
The shooters, ousted from Hawk Mountain, established stands at other outcrops along the Ridge, most notably Bake Oven Knob on the border of Lehigh and Carbon Counties. Despite Game Commission efforts to enforce whatever protection legislation was current (see inset timeline), the shooting at Bake Oven continued into the1950's when finally, birders and law enforcement nudged the shooters off the rocks. In the early 1960s, official hawk counts began at Bake Oven Knob. Meanwhile in the 1940s and 1950s, hawk watchers began recording sitings at Sterrett's Gap and Waggoner's Gap on the Kittatinny Ridge in Cumberland County.
Today, hawk watching takes place at several locations along the Kittatinny Ridge, which and has become an autumn destination for raptor enthusiasts around the world. Find other hawk watch sites along the Ridge.
| Hawk Protection in Pennsylvania | Hawk Watching in Cumberland County |
| --- | --- |
| 1934 – Rosalie Edge installs a curator and warden at Hawk Mountain to stop the shooting. Hawk counts begin. | |
| 1937—A Pennsylvania law protects all hawks except Northern Goshawks, Cooper's and Sharp-shinned Hawks. | 1938-1941 - E.S. Frey collects hawk count data at Sterrett's Gap, Cumberland County. |
| | 1948 – First known counts take place at Waggoner's Gap, Cumberland County (data from 1948-1951 were lost). |
| 1951—The Pennsylvania Game Commission terminates the $5 bounty on Northern Goshawks. | 1953 – Waggoner's Gap and surrounding 3,000 acres are purchased by Reineman Wildlife Sanctuary Trust. No hunting is allowed. |
| | 1954 – Lou Knohr begins daily counts at Waggoner's Gap. |
| 1957— Pennsylvania law is passed that protects all hawks during the migration months of September and October in northeastern PA. | |
| 1969—The Pennsylvania State Legislature passes the Pennsylvania Model Hawk Law, protecting all birds of prey except Great-horned and Snowy Owls. | |
| | 1973 – Michael Kotz, a Harrisburg High School student, counts raptors for one season at Waggoner's Gap, an effort sponsored by the Appalachian Audubon Chapter (these data were lost). |
| 1974—Hawk Migration Association of North America (HMANA) is formed. | 1974— The Waggoner's Gap team consists of Dr. C.J. Ralph, Malcom Simons Jr., Jake Baum, and a few others. Rich Peiffer (a Cumberland Valley High School teacher) is chosen to compile and submit data to HMANA. |
| | 1981 – Greg Smith takes over as data compiler for Waggoner's Gap. |
| | 1987 – Kim and Glen Van Fleet take over as lead data compilers for Waggoner's Gap. |
| | 1994 – Dave Grove takes over as lead data compiler for Waggoner's Gap. |
| | 1997 – Waggoner's Gap hawk watchers now logging over 1,000 hours annually per season on the rocks. |
| 2000—Raptor Watch, a global directory of raptor migration watchsites is published, describing 388 globally significant sites in 89 countries. | 2001 – Audubon Pennsylvania acquires Waggoner's Gap and 20 surrounding acres. A parking lot and trails were built. |
| | 2004 – Audubon Pennsylvania acquires 100 acres to the west of Rt. 74 |
| | 2009 – Education amphitheater and new Songbird Trail to the East Rocks Overlook is complete; connection to Tuscarora Trail is established. |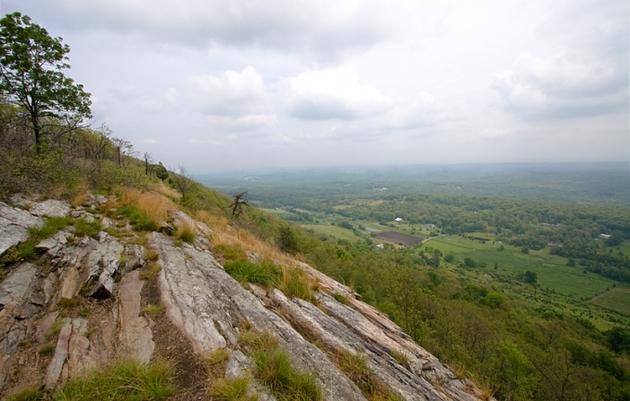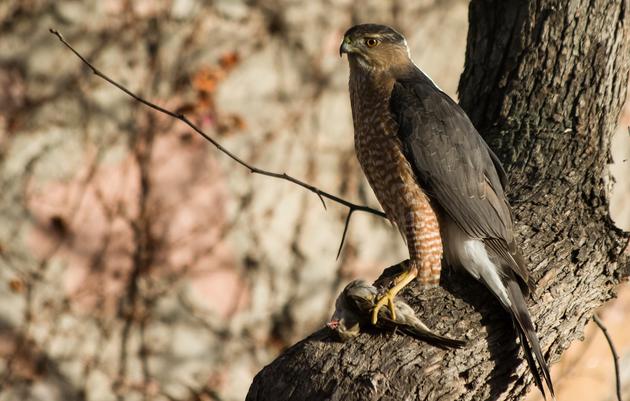 Birds
Few wildlife experiences compare with watching a Golden Eagle cruising over a landscape painted in autumn's brilliant colors - and there's no better place to see this than the wind-swept rock outcrop at Waggoner's Gap Hawk Watch.
How you can help, right now
Donate to Audubon
Help secure the future for birds at risk from climate change, habitat loss and other threats. Your support will power our science, education, advocacy and on-the-ground conservation efforts.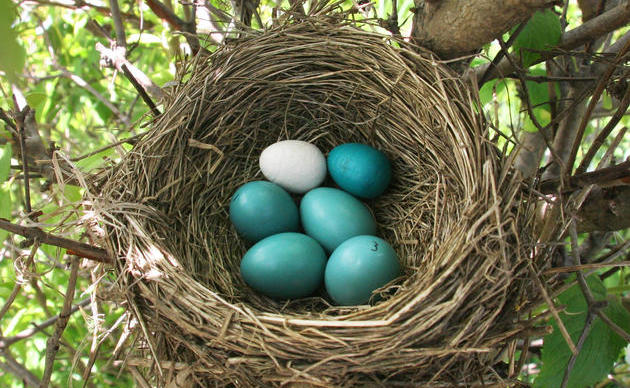 Become a Monthly Donor
Donating monthly is flexible, easy and convenient and makes you a champion birds can count on, no matter the season.