Creating a bird-friendly habitat is easier than you think. Simply think of it as a recipe with four key ingredients: food, water shelter, and nesting sites. Below are suggestions to help you get started or add on to your bird-friendly habitat. Natural options appear first in each category. If space and resources allow, start with natural options and supplement with human-made items. This helps to provide a sustainable, layered approach that will support birds and other wildlife across the seasons well into the future. Need design inspiration? Click here for sample garden plans.
Think bird-friendly food groups when adding native plants and feeders: insects, seeds, berries, & nectar.

Native trees, shrubs, flowers, grasses

Dead wood and fallen leaves

Seed and nectar feeders

Suet

Fruit

Mealworms

Provide birds with clean water sources all year long for drinking, bathing, and preening.

Streams, creeks, vernal pools

Wetlands

Rain gardens

Bird baths, ponds, water garden

Fountains (traditional or drip)

Other depressions, downspout pools, and pooling areas

Aim for a variety of heights and textures to provide plenty of options for birds to rest, avoid predators, and build nests.

Native trees, shrubs, grasses, ferns (including evergreens)

Native fencerows/bramble patches

Log, brush, or rock piles

Meadows

Discarded Christmas trees

Nest and winter roost boxes

Offer natural and human-made options for birds to nest safely, away from predators and other threats.

Multiple native trees, shrubs

Standing dead trees

Meadows and grasslands

Nest boxes, platforms, cups

Accessible barn or structure

Chimney Swift tower/accessible chimney

Abandoned silo
Ready to enroll your home in the Bird-Friendly Habitat regognition program? Click here for all the details!
How you can help, right now
Donate to Audubon
Help secure the future for birds at risk from climate change, habitat loss and other threats. Your support will power our science, education, advocacy and on-the-ground conservation efforts.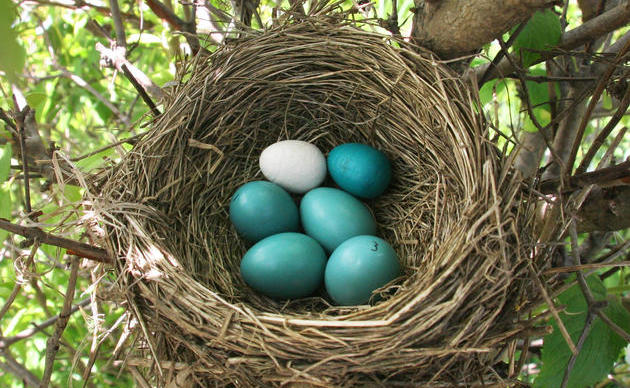 Become a Monthly Donor
Donating monthly is flexible, easy and convenient and makes you a champion birds can count on, no matter the season.