"We should ratchet up what is unique about this place rather than add what is common."
~Keith Russell, Audubon Program Manager for Urban Conservation, in response to a question from the design team about introducing new species to the site. The spirit of his answer became a guiding principle for all elements of the project design.
Public Access
The Discovery Center serves as a gateway that allows visitors to access the site without requiring entry to the building. After hours, a pair of hand-forged, stell pivoting security gates maintain a visual connection with the reservoir. Conceived by local artist Warren Holzman, the weathering steel gates reference a long tradition of blacksmithing and decorative sanctuary gates in Philadelphia.
Bird Strike Prevention
Windows frame the panoramic views of The Discovery Center grounds and protect us from the weather, but they also pose a deadly threat to birds in flight. Collisions with glass are responsible for up to one billion bird deaths in the United States each year. The Discovery Center windows employ a range of bird collision prevention strategies including acid-etched glass, adhesive dots, hanging cords, and a louvered project donor wall. These high- and low-tech strategies for reducing bird collisions with glass are a teaching element of the design, intended to raise awareness and encourage action. Learn more about how to prevent bird collisions.
Ascent to Water
Unless you are a longtime resident of Strawberry Mansion, a Philadelphia Water Dept. employee, or a bird, you are likely new to this fantastic landscape. Like the surprise of finding a mountaintop lake at the end of a long uphill hike, The Discovery Center design amplifies the strange and compelling sensation of ascending from an urban landscape to an unexpected and elevated body of water.
A Landscape Building
In deference to Fairmount Park's historic mansion, the building design, by Philadelphia architect DIGSAU, takes its inspiration from the park's landscape structures. The long site wall includes nesting shelves for birds, references to the original height of the reservoir embankment, and creates a single entry portal from the city to this unexpected natural setting.
Fire as a Tool
The design employs a limited palette of materials. The primary, exterior material is western red cedar charred by fire. This centuries-old wood preservation technique greatly extends the life of the material, embodying the paradox of natural forces that are at once destructive, restorative, and protective. This choice of building material invites another level of inquiry into both the novel ecology of the site and our inhabitation of the natural world.
Learn More and Get Involved
Donate to Audubon
Help secure the future for birds at risk from climate change, habitat loss and other threats. Your support will power our science, education, advocacy and on-the-ground conservation efforts.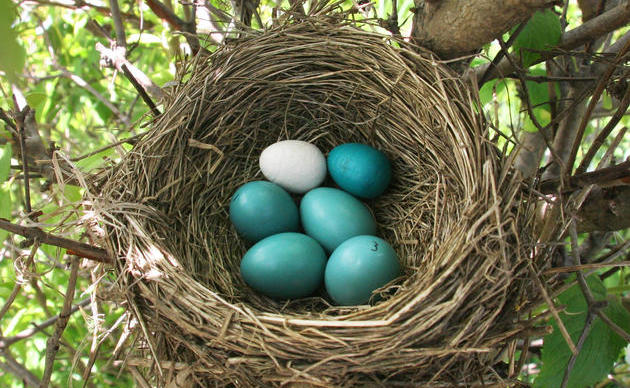 Become a Monthly Donor
Donating monthly is flexible, easy and convenient and makes you a champion birds can count on, no matter the season.