Meet the Team
Suzanne Biemiller

Executive Director, Audubon Mid-Atlantic and Vice President, National Audubon Society

Suzanne Biemiller brings more than two decades of experience in the philanthropic, non-profit, and government sectors. Suzanne helped spearhead the creation of and wrote Greenworks Philadelphia, which united the city's sustainability work and became the catalyst for Philadelphia's innovative sustainability efforts. Suzanne's experience also includes tenure as a senior program officer at The Pew Charitable Trusts, where she developed, advanced and oversaw local and national civic initiatives, including the Philadelphia Research and Policy Initiative and the restoration and renewal of the Fairmount Water Works and the National Park Service's Benjamin Franklin Museum. Additionally, she previously held the title of Chief of Staff at the American Board of Internal Medicine.

Suzanne has served on the board of directors of the Philadelphia Outward Bound School, Audubon's partner at The Discovery Center, and on additional boards, including the Community College of Philadelphia and Pennsylvania Intergovernmental Cooperation Authority. She received a master's degree in Public Policy from Harvard University's Kennedy School of Government and a bachelor's degree from Williams College.

Greg Goldman

Senior Director, Development, Audubon Mid-Atlantic

Greg Goldman joined Audubon in 2016. He brings to Audubon a broad range of experience in a variety of sectors, including his most recent position as Vice President, Development of the Philadelphia Zoo. Prior to that, he was CEO of the Digital Impact Group (previously known as Wireless Philadelphia), where he was responsible for leading a citywide initiative to extend internet access to low-income families and small businesses across Philadelphia. Greg also served as Executive Director of MANNA, a volunteer organization that provides nutritional services to people living with HIV/AIDS and other illnesses, and Senior Program Officer at the Philadelphia Foundation. Greg received his BA from Northwestern University and a Master's degree in public policy from the University of Chicago.

Jean Bochnowksi

Director of Centers and Operations, Audubon Pennsylvania

Jean Bochnowski was hired as Center Director for the John James Audubon Center in October 2003. She comes to Audubon with a vast array of non-profit marketing and management, including six years as the Executive Vice President/Chief Administrative Officer of the Zoo New England. During her tenure, Boston's Franklin Park and Stone Zoos acheived an unprecedented eighty percent increase in attendance, a 241 percent increase in guest revenue, and a 400 percent increase in fundraising. She is credited with building from the ground up programs in marketing, development, information services, education, guest amenities, and human resources. Jean has a BS in Mass Communication and an MS in Administration. Prior to joining Audubon, she served as the Executive Director of the Rainbow Endowment, a national grant making foundation established by tennis legend Martina Navratilova.

Ron Rohrbaugh

Director of Conservation Science and Forest Programs, Audubon Pennsylvania

Ron's work focuses on dynamic forest management to create healthy, working forests that benefit birds and other wildlife, while meeting socio-economic needs for forest products. This includes conservation planning, active management, forester training, partnership building, and landowner outreach. In addition, Ron provides scientific leadership for Audubon Pennsylvania's many conservation projects. Before coming to Audubon in May 2018, Ron spent 21 years as Assistant Director of the Conservation Science Program at the Cornell Lab of Ornithology. Ron completed his undergraduate and graduate studies at The Pennsylvania State University. He is currently Chair of the International Wood Thrush Conservation Alliance and a member of the Association of Fish and Wildlife Agencies conservation committee.

Elizabeth "Beth" Brown

Director of Delaware River Watershed Programs, Audubon Pennsylvania

Beth Brown, a Pennsylvania native, brings more than a decade of experience in the environmental field to her position at Audubon. Following several years in private practice, she joined the Delaware Riverkeeper Network serving in legal and advocacy roles for more than five years. While at DRN, she gained a deep knowledge of conservation issues in the Delaware River watershed. Most recently, she spent five years with Thomson Reuters, where she oversaw a suite of environmental and energy law resources. Beth holds a BS in biology from Muhlenberg College and a JD from The George Washington University Law School.

Carrie Barron

Center Manager, John James Audubon Center at Mill Grove

Carrie joined the Audubon team after spending more than fifteen years in the environmental education field. She spent five years as a classroom science teacher in middle and high schools, both in rural and urban settings. Her most recent position was at a charter school in Philadelphia that focuses on student acheivement and tying curriculum to the state standards. Prior to formal teaching, Carrie was a seasonal interpretive Park Ranger traveling between the Everglades, Redwoods, and Assateague Island. She then worked for both the National Aquarium in Baltimore and the Philadelphia Zoo where she conducted school-based and field environmental education programs to children and adults. She also continued her pursuit for conservation education with Audubon in Maryland and Florida. At Mill Grove, she oversees the non-releasable bird program, volunteers, education programs, and social media. Carrie has recently been working with National Audubon Society on the Audubon Adventures, as well as the Plants for Birds Campaign.

Damien Ruffner

Center Manager, The Discovery Center

Damien has been involved with education for ten years, and specifically environmental education for the past eight. He received his BS in Biology from Francis Marion University. After growing up primarily in the Southeast, Damien spent time in the Lone Star State teaching at-risk youth science in and after-school settings for kids. After moving to Philadelphia in the summer of 2011, he took on the role of Environmental Educator with the Schuylkill Center, as well as a mentor for the Philly based program, EducationWorks. Damien's passion for teaching environmental issues comes from his background of wanting to break down perceived barriers between people in nature. He hopes to take his background and use it to create a supportive learning environment for the Strawberry Mansion community and the Philadelphia region.

Wendy Christie

Development Officer, Audubon Pennsylvania

Wendy joined Audubon in 2014, with a lifetime of nonprofit experience in various disciplines including the Philadelphia Museum of Art, American Red Cross and Small Steps in Speech, an organization that provides grants for children with speech and language needs. Wendy joined Audubon as part of the Development team responsible for events, institutional relationships and development communication and is thrilled to be part of an organization that is working to preserve and protect our earth. She holds a BA in Art History from Dickinson College and a Master's in Fine Arts degree in Museology from Syracuse University.

Kelly McGinley

Network Engagement Manager, Audubon Pennsylvania

Kelly has a background in education, with over ten years of teaching and curriculum development in both the public and private sectors. For the last fifteen years, she has developed programming for a variety of non-profit organizations with missions ranging from conservation to animal welfare to fair trade. Most recently, she served as the Community Outreach Coordinator for the Appalachian Trail Conservancy's Mid-Atlantic Regional Office. She managed the Appalachian Trail Communities program across six states, worked on multiple organization initiatives, and developed community outreach programs to educate the public and build awareness for the protection of preservation of the Appalachian National Scenic Trail. Since coming to Audubon in 2017, she has drawn upon her professional background in education, marketing, and volunteer management to enhance the environmental education curriculum in Central Pennsylvania, create the Community Blooms learning garden project in York, and develop Bird-Friendly communities projects across the partner network. Kelly loves working alongside volunteers and especially enjoys how frequently her work takes her outdoors.

Valerie Peckham

Field Organizer, Audubon Pennsylvania

Valerie has spent more than 20 years empowering people to advocate for wildlife. Prior to joining Audubon in 2017, she held the position of Conservation Program Manager at the Philadelphia Zoo where she managed a suite of global conservation projects aimed at protecting everything from tigers to turtles. While at the Zoo, she created scalable models to maximize collective zoo visitor impact on issues facing wildlife and drive change in conservation practices - particularly with regard to corporate commitment to the use of deforestation-free palm oil. She also developed a number of regional initiatives, some of which focused on birds, and was fortunate to work closely with several Audubon staff even before officially joining the team. Valeria has a BA in Communications from Temple University and in her current role, develops integrated strategies to advance policy through local action with a focus on watershed health and climate change.

Jeanne Ortiz

Senior Program Manager of Landscape Conservation, Audubon Pennsylvania

Jeanne manages the 185-mile Kittatinny Ridge Conservation Landscape, a Global Important Bird Area, in partnership with the Pennsylvania DCNR. She conducts "Return on Environment" studies with partners to document the economic value of natural system services and the economiv impact of natural resources on recreation, health, and real estate values. Jeanne conducts municipal outreach and provides techical assistance along the Kittatinny Ridge and for the Delaware River Watershed Initiative. Her previous experience includes managing a statewide Environmental Advisory Council program for the PA Environmental Council; a nationwide Buy Fresh Buy Local program for the FoodRoutes Network; and neighborhood economic development and adult education programs for the Lighthouse, a settlement house, in north Philadelphia. She also organized Health Councils in Philadelphia public schools for the Food Trust. Jeanne has a Master's Degree in City and Regional Planning from Cornell University and a BS from the School of Public and Environmental Affairs from Indiana University, Bloomington, IN.

Keith Russell

Program Manager for Urban Conservation, Audubon Pennsylvania

Based in Philadelphia, Keith works on a variety of bird conservation issues including bird collisions with man-made structures, birds and nocturnal lights, non-native plants, and migration stopover habitat. His work has used education, monitoring, research, advocacy, and habitat restoration to improve conditions for birds in ways that have also broadened engagement in the environmental movement. Previously he worked as a Program Assistant for National Audubon's Important Bird Area Program (2003-2005), Assistant Editor for the landmark publication The Birds of North America (1992-2003), and Collections Manager for the Exhibits Department of the Academy of Natural Science of Drexel University (1982-1992). He is also a research associate of the Academy of Natural Sciences and he has received a number of awards, including the 2016 American Birding Association's Ludlow Griscom Award for Outstanding Contributions to Regional Ornithology.

Kathleen Martin

Program Coordinator for Community Conservation, Audubon Pennsylvania

A Reading, PA native, Kathleen is a 2015 graduate of the State University of New York College of Environmental Science and Forestry. She spent two years with the New York Tree Trust where she worked on street trees and neighborhood gardens with community groups in Brooklyn and Queens. Prior to joining Audubon, she was a Public Relations Associate with the Philadelphia Parks and Recreation Department.

Michael Oscar

Engagement, Volunteer and Retail Manager, John James Audubon Center at Mill Grove

Michael was born and raised in the Mill Grove area. He loves learning new things and doing outdoor activities. Michael went to Gettysburg College and has a degree in both History and Business. He is able to put both of these degrees to use running the new Center and Historic House Museum. A martial arts expert, he enjoys helping students find confidence and bettering themselves. When not on site, teaching, or training, his favorite thing to do is travel. He has been all around the world and even lived in Japan. After years of working in the business world, Michael decided to change things up and work somewhere he could make more a difference in people's lives. He started at the John James Audubon Center as a volunteer working with Conrad the Blue Jay and other educational birds. Michael has been glad to be a part of the official Audubon team since day one.

Dan Sullivan

Facilities and Grounds Manager, John James Audubon Center at Mill Grove

Before joining the Audubon team, Dan owned and ran a small welding business, managing countless projects throughout his career. He also worked as a contract handyman for a time, working mostly with small household issues. Dan now works as the Facilities and Ground Manager at Mill Grove and can be found spending most of his time outside maintaining the 5 miles of trails and several acres of managed land across the site.

Connie Sanchez

Communications Coordinator, Audubon Pennsylvania

Connie joins the Audubon Pennsylvania team with close to 20 years of experience in conservation, technology, and education, having worked for government and non-profit entities as well as in public school and university settings. Trained as a biologist, Connie's passion lies in creating connections with people and nature. Connie has served in a variety of roles with National Audubon Society since 2002, most recently as Director of the Important Bird Areas Program. In this role, she led efforts in prioritizing critical habitats for birds, facilitating communications and the development of tools and resources to engage local communities in conservation. She holds a MS in Biology from Fort Hays State University in Kansas, with research focused on migrant warblers, and a BS in Ecology and Evolution from the University of Rochester in New York.

Sherry Polidore

Finance Operations Associate, John James Audubon Center at Mill Grove

Sherry began at Audubon Pennsylvania in 2016 as a volunteer in the Finance Department. She officially joined the Audubon team in December 2019 as the Finance Operations Associate. Sherry brings with her a BA in Operations Management with a minor in Economics from The Pennsylvania State University, plus many years of business and fundraising experience to her role.

Jose Santiago

Center Coordinator, The Discovery Center

A North Philadelphia native and graduate of the College of the Holy Cross class of 2017, Jose joined the Audubon team in 2018 as a Fund II Apprentice. The Fund II Foundation Apprenticeship Program at Audubon is a year-long, full-time apprenticeship for diverse young leader entering the conservation field. During his time as an Apprentice, Jose worked tirelessly to increase community awareness and involvement with The Discovery Center. His focus being high school students' intership opportunities, which exposes students to conservation as a potential future career option. Prior to his time with Audubon, Jose participated in AmeriCorps where he was stationed in central California. It was here that he gained valuable experience in invasive species management and trail restoriation work. In his new role as Center Coordinator, Hose hopes to continue his work with community involvement, enhance the trail system and further develop the high school internship program.

Robin Irizarry

Program Associate and Alliance for Watershed Education Fellowship Coordinator

Prior to joining Audubon Pennsylvania, Robin served as the Philadelphia Watershed Coordinator for the Tookany/Tacony-Frankford Watershed Partnership. Robin has a BS in Landscape Architecture from Temple University and has previously worked in ecological landscape design and construction across southeast PA. He has also taught landscape design graphics classes at Longwood Gardens. Robin is a woodworked and avid birder and enjoys exploring around his hometown of Philadelphia.

Bria Wimberly

Environmental Educator, The Discovery Center

Born and raised in West Philadelphia, Bria found her interest in environmental science when visiting Cobbs Creek as a child. She received her BS in Marine Biology from Florida International University in 2015, then moved back to Philadelphia to teach what she learned. She spent five years working as an educator and coordinator for Fairmount Water Works focusing on aquatic macroinvertebrates and the outreach program for their freshwater mussel hatchery. As of January 2020, Bria has joined the Audubon team as an Environmental Educator teaching neighborhood children about the importance of our watersheds, conservation, ecosystems, and everything in between. She hopes to give kids a modern representation of what a scientist and educator looks like, and spark an interest in science within her students. In her spare time, Bria likes to snorkel, birdwatch, dance, do yoga and watch sketch comedies.
Learn More and Get Involved
Donate to Audubon
Help secure the future for birds at risk from climate change, habitat loss and other threats. Your support will power our science, education, advocacy and on-the-ground conservation efforts.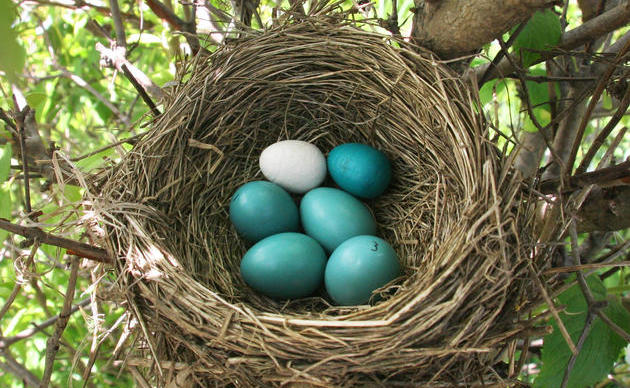 Become a Monthly Donor
Donating monthly is flexible, easy and convenient and makes you a champion birds can count on, no matter the season.